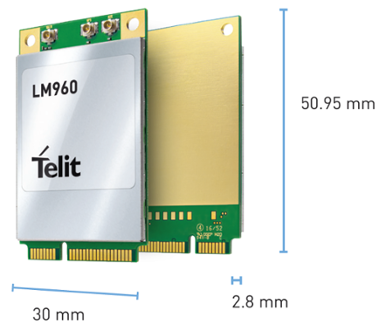 Source: Telit
Today Telit unveiled the world's first global full-size PCI Express Mini Card (mPCIe) for enterprise routers and appliances. The 23-band LM960 supports LTE Advanced Category 18 (Cat 18) with download speeds of up to 1.2 Gbps and 5-band fallback to 3G. It will be available in select markets in the third quarter of 2018, according to ongoing mobile network deployments of Cat 18 service.
The rugged LM960 delivers significant flexibility and a competitive edge to original equipment manufacturers (OEMs) looking to quickly deploy next-generation products delivering carrier broadband-like user experience. The new LM960 is an enhancement with similar characteristics as the Cat 11 LM940; the two products are fully interchangeable, so products already developed for the LM940 can take advantage of the higher end LM960.
As the LTE standard evolves and matures, router and gateway OEMs can leverage the technology not only for high download bandwidth and near instant network response times but also for solid upload speeds and reliability as applications like high definition video streaming, digital signage, all cellular commercial and enterprise internet and software-defined wide area network (SD-WAN) access become increasingly more sophisticated.
Important characteristics
LTE Cat 18: Exceptionally high-speed with data rates of up to 1.2 Gbps download and 150 Mbps upload

5x Carrier Aggregation for increased data rates
Up to 1200 Mbps DL w/5x Carrier Aggregation, 4x4 MIMO and 256 QAM
Up to150 Mbps UL w/ 64QAM and UL Carrier Aggregation

LTE FDD Bands: B1, B25(B2), B3, B66(B4), B26(B5), B7, B8, B12(17), B13, B14, B20, B28, B29(DL), B30, B32(DL), B71
LTE TDD Bands: B38, B39, B40, B41, B42, B46(DL), B48
3G Bands: B1, B2, B4, B5, B8
Full GNSS support: GPS, GLONASS, Galileo, Beidou
USB 3.0
About Telit
Telit (AIM: TCM), is a global leader in the internet of things (IoT) enablement connecting the world from the inside out. The company offers the industry's broadest portfolio of integrated products and services for IoT deployments – including cellular communication modules in all technologies, GNSS, Wi-Fi, short-to-long range wireless modules, IoT connectivity plans and IoT platform services. Through the IoT Portal, Telit makes IoT onboarding easy, reduces risk, time to market, complexity and costs for asset tracking, remote monitoring and control, telematics, industrial automation and others, across many industries and vertical markets worldwide.