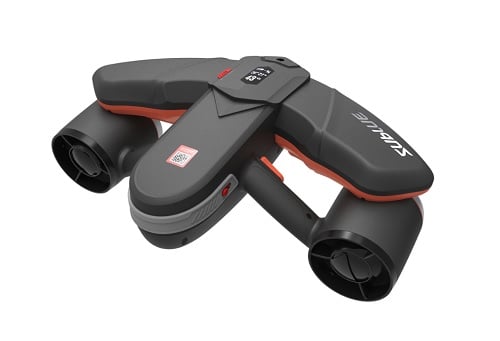 The Seabow underwater scooter. Source: SublueWater recreational device maker Sublue has introduced three underwater scooters at CES 2019 for families and professionals.
The Sublue WhiteShark Nano is an autonomous underwater robot designed for underwater photography and video that uses artificial intelligence to follow a target (either a human diver or marine life) with a 120° wide-angle 4K camera with two LED lights and seven mini propellers.
The Sublue Seabow is the company's latest generation underwater scooter that pulls users through the water. The device won a CES 2019 Innovation Award for its crossbow design and dual motors that have three speeds and can carry a person at 6 ft per second for about 45 minutes.
Finally, the Sublue Swii is an electronic kickboard for both adults and kids of any swimming ability. With built-in dual motors and a safety cutoff feature, the Swii is designed for use in pools or other calm water and users can change speeds and customize the built-in LED lights.
Click here to check out Electronics360's full coverage of CES 2019.