PowerVision Technology Group, a developer of unmanned aerial vehicles, robotics and big data technologies, has extended its water drone range to include PowerDolphin. The device will debut at the Consumer Electronics Show CES 2018 in Las Vegas during January 9-12. The intelligent water drone offers a number of benefits to fishermen, divers, boat owners, water sport enthusiasts and emergency responders.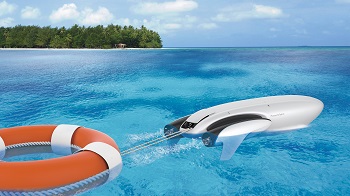 PowerDolphin with the tow line attached. Source: PowerVision TechnologyPowerDolphin's front fuselage is equipped with a unique dual-joint rotation 4K camera covering 215°. Users can shoot above the water level up to 80° and tilt down to shoot below water at -135°. The 4K high-definition images captured by PowerDolphin can be sent in real-time via ultra-long-range wireless 1080P image transmission to the controlling Vision+ App.
Accompanying the dual-joint rotation camera, the front lights have four adjustable brightness levels which rotate in balance with the camera to shoot well-illuminated, stunning photos in different types of water.
In addition to its imaging capability, PowerDolphin offers an intelligent fishing experience, combining the PowerSeeker attachment as a fish finder with ploughshare, helping in the process of finding fish, towing hooks, nesting and general fishing. The remote-controlled PowerDolphin can directly tow hooks and lure fish to the desired location at up to 1,000m, greatly extending the fishing rod's reach and allowing you to watch and record the entire prey bite process through the 4K camera.
The PowerSeeker intelligent fish finder significantly enhances the ability to find fish with its real-time location and direction of fish shoals within 40m underwater. Once the prey successfully bites, PowerDolphin will drag it back to the controller's side, providing a new fishing experience. It may be time to bid farewell to fishing rods.
With three different speed gears, it can swim up to 5m per second, delivering attached lifebuoys, lifejackets, towlines and other rescue equipment timely and accurately.
Acting as the First Responder to arrive at the incident scene, PowerDolphin can carry and release remotely the necessary equipment faster than lifeboats by eliminating manual preparation and hull activation.
PowerDolphin has up to two hours of battery life and is equipped with an intelligent sonar device and GPS waypoint cruise function. It can also automatically scan designated waters and draw underwater topographic maps by mounting a smart fish finder with path planning function on the Vision+ App.
Additional features are a water touch switch, mobile phone control, return home function and support for battery and SD card replacement.