FIFISH, the underwater drone brand of Shenzhen QYSEA Technology Co. Ltd., has been honored with a CES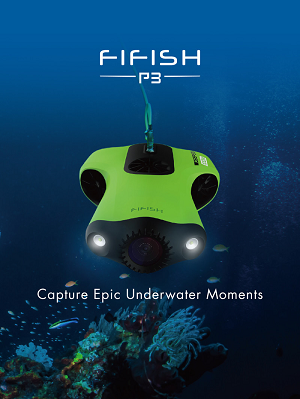 Source: FIFISH2018 Innovation Award, the second time the company has garnered the prize. Its FIFISH P3 underwater drone is designed for underwater exploration, photography and video shooting.
Equipped with Ambarella chipset, one-inch SONY CMOS sensor and 162 FOV ultra-wide-angle lens, FIFISH P3 could capture 4K HD footage and 20-megapixel photos in the underwater environment.
The device incorporates 4,000-lumen LED lights with eight adjustable brightness levels to ensure detailed performance in dark environments. Designed by experts in computational fluid dynamics, FIFISH P3 has a three thrusters that can achieve stable underwater suspension, multiple speeds and a working depth of up to 100 meters. A two-hour battery life makes dives longer for more video capture time. FIFISH P3 is intended for divers, professional underwater photographers and skilled hobbyists.