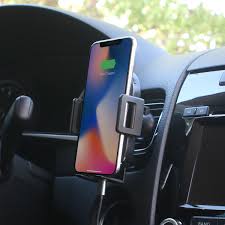 The new wireless car charger. Source: Lynktec
Lynktec has released its Bolt Smart Car Mount and Qi Wireless Charger, expanding the company's tech accessories line with the first of its new wireless charging products.
The Bolt car mount and holder features a smart, automatic lock and unlock function that works with one touch, then securely hugs a user's phone when placed over the built-in infrared sensor. The Qi-certified wireless charger is optimized to work with Apple and Samsung Fast Charge.
When used with the included quick charge 3.0 car charger, Bolt delivers up to 10 W of power to Qi-enabled smartphones. The mount holds a small 250 mAh backup battery so users can utilize the automatic lock and unlock feature even when the device is not connected to power.
Bolt is designed to hold mobile devices with 4 in to 6.7 in displays and can charge wirelessly, even with heavy-duty phone cases. The car mount rotates 360° for both portrait and landscape viewing modes, and the adjustable feet add stability and the ability to align different phones with the wireless charging pad.
The Bolt Smart Car Mount and Qi Wireless Charger comes with an air vent holder, dual USB car charger with quick charge 3.0/2.1 A outputs and USB-C charging cable.