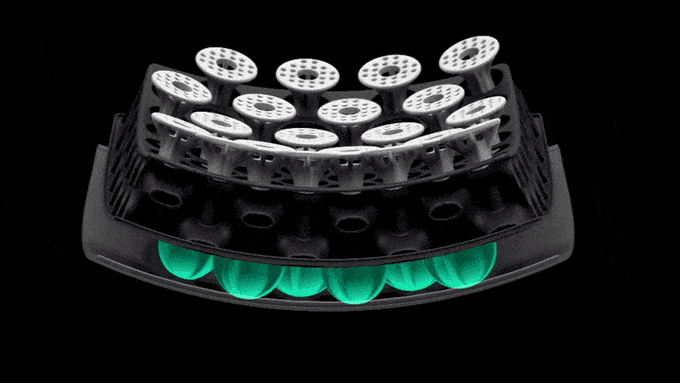 Kupol, a bike helmet safety vendor, has teamed up with Sculpteo, an online 3DS printing manufacturer, to create what it claims is the first entirely 3D-printed bike helmet. The cycling helmet design and structure was created to follow movements naturally and absorb impact from any angle.
The helmet uses Kupol's Kollide Safety System technology that is based on three soft, flexible and lightweight layers of materials with an opened structure that creates an aeration network for breathability. So-called Kinetic Bumpers are used under the shell to cushion the head in the event of a fall at low speeds. An internal Kore collapses on impact to take the brunt of the force at any angle and more than 100 pods offer a good fit and protection against quick movements, replacing traditional polystyrene.
"It's been over 20 years since bike helmets have undergone any sort of real change. People are still wearing the same outdated foam protection that was on the market a generation ago," said Gabriel Boutin, president of Kupol. "No doubt, switching from standard foam to 3D printing was quite a leap, but it was far from impossible: we did it. Sculpteo's 3D printing technology enabled us to achieve the degree of accuracy needed to rapidly create complex structures at a low price."
Kupol has launched a Kickstarter campaign in order to drum up support for manufacturing the helmets. If you are interested in supporting the crowdfunding effort, visit Kickstarter.