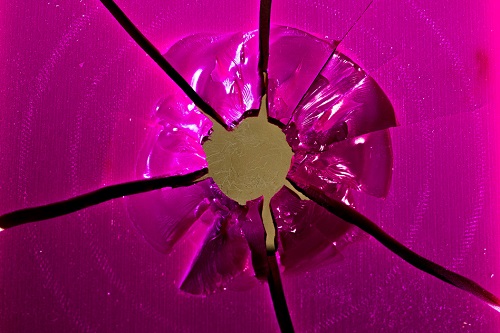 The 3-D printed composite materials with precisely controlled structures that were tested to see how cracks appeared and spread, or didn't spread, after impact. Source: MIT Researchers at the Massachusetts Institute of Technology are exploring the impact resilience of conch shells in an effort to identify new engineered materials that could potentially provide headgear and body armor of superior strength.
Conch shells have architecture that makes the material 10 times tougher than a mother of pearl. This makes the shells resistance to fractures and come in configurations based on three different levels of hierarchy in the material's internal structure.
The structure makes it hard for any tiny cracks to spread and enlarge because the material has a zigzag matrix -- meaning the crack has to go through a kind of maze in order to spread, according to researchers.
Until MIT was able to do it, conch shells were hard to replicate even though the structure was understood. Using 3-D printing technology, MIT was able to duplicate the structure and test it. The tests involved analyzing the performance under realistic conditions.
"In the past, a lot of testing [of protective materials] was static testing," said Grace Gu, a MIT graduate student. "But a lot of applications for military uses or sports involve highly dynamic loading." This requires a detailed examination of how an impact's effects spread out over time.
The examination involved a drop tower that enabled researchers to observe how cracks appeared and spread, or didn't spread in the first moments after an impact. Rather than using samples of real shells, MIT was able to 3-D print composite materials with precisely controlled structures.
The team tried making variations of the material with different levels of hierarchy. Higher levels of hierarchy were introduced by using smaller length-scale features into the composite, much like an actual conch shell. Lower-level structures proved to be significantly weaker than the highest level.
Testing the material proved that the geometry with the conch-like crisscrossed features was 85% better at preventing cracking than the strongest base material, and 70% better than traditional fiber composite arrangements.
Impact resistant gear rely on both strength and toughness -- strength to resist damage, such as steel, and toughness to dissipate energy, such as rubber. The composite material developed by MIT has the combination of these qualities.
The material has stiffness such as glass or ceramics but lacks the brittleness of those materials, and is made up of layers whose grain is oriented differently from one layer to the next, much like plywood.
MIT says this system would be able to produce individualized helmets or other body armor because it is based on 3-D printing technology. Each helmet could be tailored to meet the demands of the individual and how it fits on their skull. A 3-D printer would then print the helmet or other body armor in a cost effective manner.
The full research report can be found in the journal Advanced Materials.