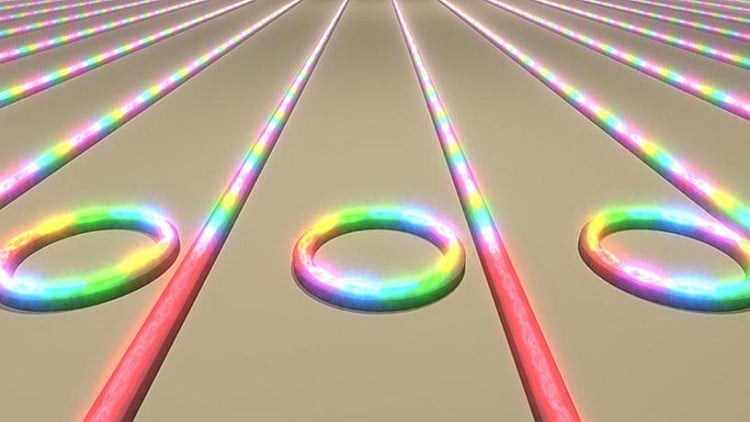 An array of microring resonators on a chip converting laser light into frequency combs. Source: Columbia University
Optical frequency combs are broadband sources with diverse applications in communication and navigation, medical testing and security. The drive to miniaturize comb sources have relied on the use of monolithic, chip-based microresonators which, while of the desired small size, must also be coupled to large, costly external lasers.
Columbia University engineers have designed and demonstrated a laser-integrated Kerr frequency comb generator that eliminates these limitations through the use of extremely low-loss silicon nitride waveguides that form both the microresonator and an integrated laser cavity.
The compact device can be powered by a AAA battery and generates low-noise soliton-mode-locked combs with a repetition rate of 194 gigahertz at wavelengths near 1,550 nanometers using only 98 milliwatts of electrical pump power.
The researchers said their development could lead to portable frequency comb devices for new applications in environmental monitoring, wearable devices, signal sources or for laser radar/LIDAR in autonomous cars.