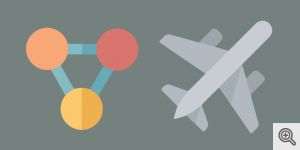 The technique could be used in airport screening systems and for environmental monitoring of pollutants. Source: University of Michigan
A method for the rapid and accurate detection of explosives and hazardous gases couples multi-dimensional coherent spectroscopy (MDCS) with dual comb spectroscopy. University of Michigan researchers say the technique could be used in airport screening systems, for the environmental monitoring of pollutants or even in battlefields.
Ultrashort laser pulses are used to identify gas types in MDCS-laser pulses transmitted through gas mixtures to decode the specific wavelengths of light that are absorbed by specific gases.
"If you have light going through the gas, and, for example, you use a prism to separate white light into colored light, in the rainbow spectrum you'd see there'd be black stripes," says physics professor Steven Cundiff. "Where the black stripes almost gives you a barcode that tells you what kind of molecule is in the sample."
Coincident use of dual comb spectroscopy speeds up the analytical process. Frequency combs are laser sources that generate spectra consisting of equally spaced sharp lines that are used as rulers to measure the spectral features of atoms and molecules with extremely high precision. Deploying two frequency combs provides a path to the rapid acquisition of a high resolution spectrum without mechanical moving elements such as a "corner cube"—the three mirrors arranged to make one corner and reflect a laser beam directly back on itself. This element usually limits how long it takes for the researchers to measure a spectrum.
The scheme was tested by application to a vapor of rubidium atoms that contained two rubidium isotopes. The frequency difference between absorption lines for the two isotopes is too small to be observed using traditional approaches to MDCS. The addition of dual comb spectroscopy enabled resolution of these lines and determination of isotope spectra.
The researchers plan to add a third laser to achieve greater speeds in gas identification. The use of fiber lasers will also be tested as a means of expanding the number of chemicals that can be identified.