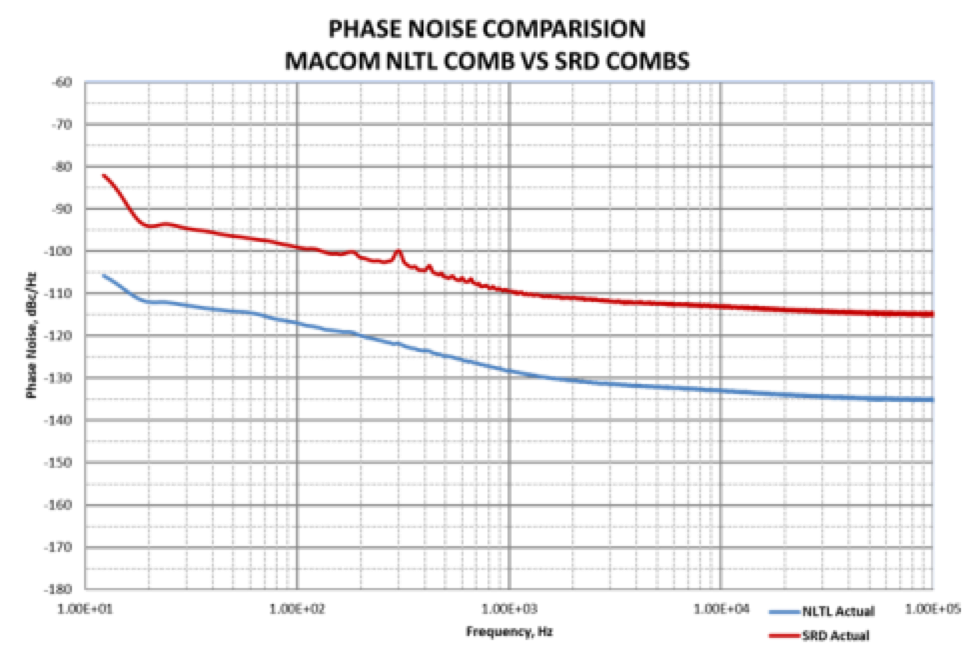 Expected phase noise comparison between Macom NLTL-based MLPNC comb generators and conventional SRD comb generators. Source: Macom
At the International Microwave Symposium (IMS) this week in Philadelphia, MACOM Technology Solutions Inc. is introducing a new portfolio of non-linear transmission line (NLTL) gallium arsenide comb generators designed to meet the performance requirements of radar transceiver, VSAT and microwave radio applications. According to the company, the MLPNC Series offers the lowest phase noise in the industry, along with delivering superior performance and ease-of-design compared to conventional step recovery diode (SRD) based offerings.
The series' phase noise performance is expected to significantly improve the overall performance of RF multiplier modules, complemented by a variable low input power profile (18-24 dBm) that relaxes the power requirements on power amplifiers and reduces overall power consumption. MLPNC Series comb generators also enable higher harmonic power at higher frequencies. By contrast, the output power of SRD-based comb generators rapidly rolls off above 20 GHz.
The monolithic series also reduces design complexities by eliminating the harmonic generation circuitry needed with SRD-based devices. No bias or tuning is required, and the wide input frequency range extends from 75-1,500 MHz across the portfolio. This enables the use of a single comb generator for multiple designs, or in combination with a tunable source. The MLPNC Series comb generators are available in space-saving, compact SMT and connectorized SMA packaging options.
The MLPNC Series comb generators are available to customers today. MACOM's Cross Reference tool also allows customers to identify Macom products optimized to substitute or replace offerings from other vendors.