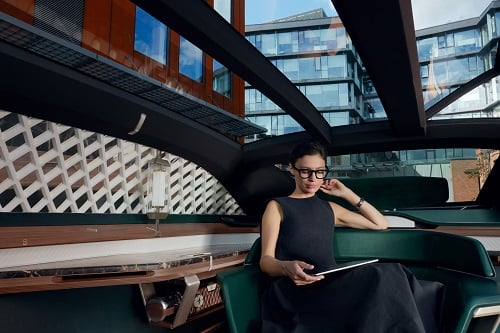 Inside the EZ-ULTIMO is a large swivel chair and table to relax while the autonomous car takes you to a destination. Source: Renault
Last month, Groupe Renault introduced a robo-pod concept vehicle that was autonomous, electric and connected for numerous types of delivery.
Now, at the Paris Motor Show, Renault has unveiled a concept robo-vehicle for personal travel that is also autonomous, electric, connected and a shared mobility service.
The EZ-ULTIMO is a prototype vehicle that caters to people looking for an upper-scale ride-hailing experience where they can relax and lounge while they ride, Renault said.
"As consumer trends change and people are enjoying ride-hailing services more and more, a new paradigm for mobility will emerge," said Laurens van den Acker, senior vice president of corporate design at Renault. "With autonomous, electric and connected cars, we are entering a new exciting era in automotive design."
The concept vehicle is designed as a personal lounge with a door that opens automatically and with a seat on a swiveling slide for easy passenger access as well as a table that can be used as a work area or as a place to put other items such as food or drink.
The all-electric EZ-ULTIMO will be equipped with Level 4 autonomous driving technology, will be environmentally friendly and will be connected to infrastructures.
Renault said connected and autonomous cars will help bring about more on-board experiences, reinvent travel time and provide new multimedia experiences while driving that will help pass the time while waiting in traffic or on a long journey.
The EZ-ULTIMO is the third prototype in Renault's concept vehicles including the shared mobility EZ-GO vehicles and the EZ-PRO last-mile delivery vehicle.