Physicists and theorists from Johannes Gutenberg University Mainz (JGU), Utrecht University, Center for Quantum Spintronics (QuSpin) and Norwegian University of Science and Technology (NTNU) have found a way to achieve fast computer speeds and eliminate heat production. The key to achieving this is magnon spintronics and antiferromagnets.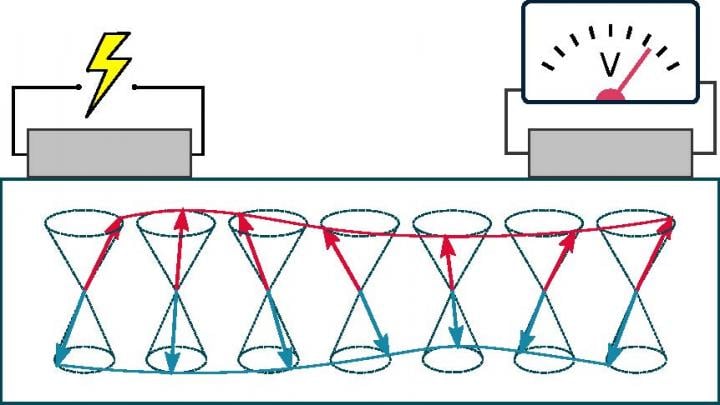 An electrical current in a platinum wire (l.) creates a magnetic wave in the antiferromagnetic iron oxide (red and blue waves) to be measured as a voltage in a second platinum wire (r.). The arrows represent the antiferromagnetic order of the iron oxide. (Source: Andrew Ross)
Magnon spintronics are insulating magnets that carry magnetic waves, or magnons, to solve speed problems in electronic devices. Magnons carry information without the excess heat typically associated with faster computer speeds.
The research team used antiferromagnetic iron oxide, which is the main component of rust, and is cheap and a promising material for low heat electronics. By reducing heat in electronics, it opens new doors for putting smaller components with increased information density to be used in computers.
Antiferromagnets have advantages over iron or nickel because they are stable and unaffected by external magnetic fields, which is key for data storage. Devices with antiferromagnets can be operated thousands of times faster than current technology because they function in the terahertz range.
During the study, the team used platinum wires on top of insulating iron oxide which allows electric current to pass close by the materials. The current leads to energy transfer from the platinum to the iron oxide, which in turn creates magnons. The iron oxide carried information over large distances in the electronics, improving the overall speed of the electronics.
"This result demonstrates the suitability of antiferromagnets to replace currently used components," said Dr. Romain Lebrun from the JGU Institute of Physics. "Devices based on fast antiferromagnet insulators are now conceivable."
Andrew Ross, one of the lead authors of the study, added, "If you are able to control insulating antiferromagnets, they can operate without excessive heat production and are robust against external perturbations."
Professor Mathias Kläui, the senior author of the paper, commented on the joint effort: "I am very happy that this work was achieved as an international collaboration. Internationalization is a key aim of our research group and in particular of our Graduate School of Excellence Materials Science in Mainz and the spintronics research center Spin+X. Collaborations with leading institutions globally, like the Center for Quantum Spintronics and Utrecht University, enable such exciting research."
The paper on this research was published in the journal Nature.