GL Communications Inc. announced the release of a new benchmarking and test drive solution using smartphones and handsets. The new device provides a combination of drive tests, walk tests and in-lab tests. The GL's VQuad mTOP Solution is designed for testing 12 independent telephone devices and can be deployed in moving vehicles for drive-testing a whole area, both indoors and outdoors, to collect voice and data performance metrics.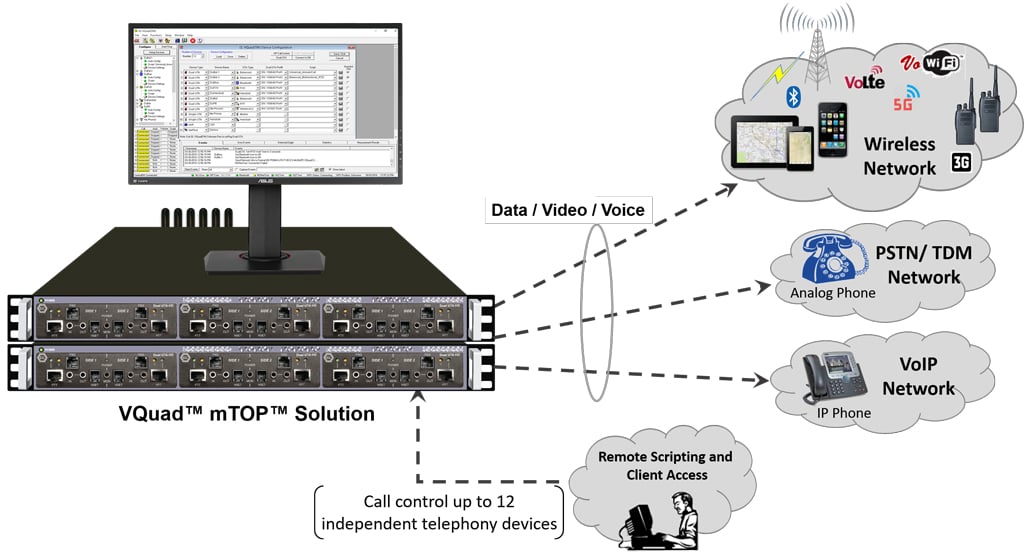 Source: GL Communications Inc.
Benchmarking is an important testing activity to determine the performance of mobile networks based on several Quality-of-Service (QoS) parameters set up by telecommunication authorities in the country where the test takes place. Independent agencies conduct sample "drive tests" across various cities as part of audits for a service provider and assess the mobile networks performance.
There are several variants of the VQuad devices, but all include support for Bluetooth wideband and FXO wideband, making it easy to interface with any mobile or FXO device. In addition, it can generate wireless as well as wireline analog calls and perform simultaneous voice, video, data, fax and time-delay measurements from a single VQuad mTOP test system.
Uses
In-car drive tests. The mTOP includes two staked 1U VQuad appliances that can support up to 20 mobile phones connected to the 20 Bluetooth interfaces of four mTOP devices. One interface of the mTOP appliance is connected to a GPS receiver that allows passing GPS signals to each of the mTOP systems.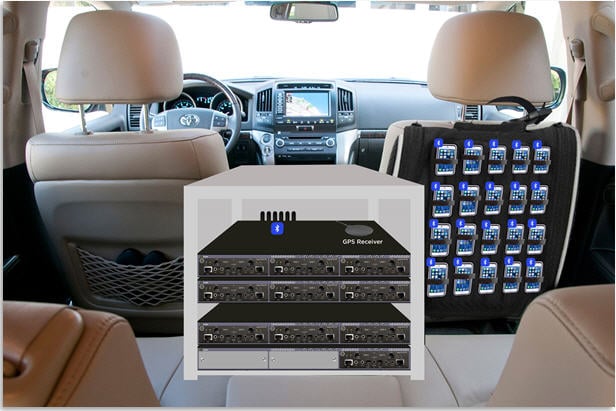 Drive test with mTOP. Source: GL Communications Inc.
Walk-around tests. One single high-density (HD) VQuad probe is used for portability and convenience, which gives the ability to test indoor and outdoor.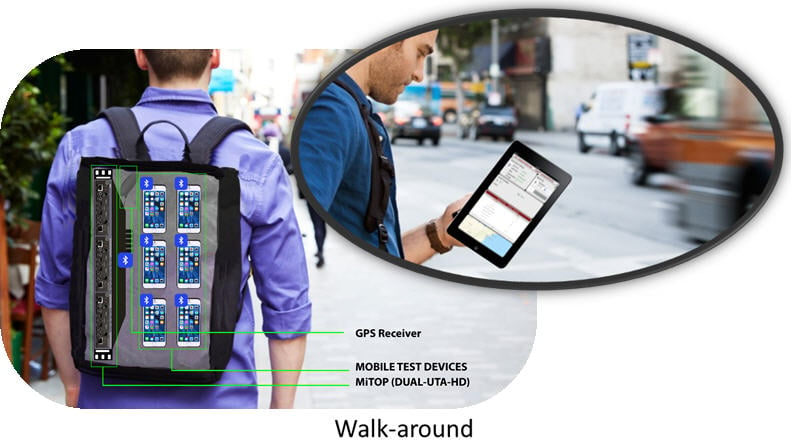 Walk-around test with mTOP. Source: GL Communications Inc.
In-Lab Tests. Tests of this modality can be deployed in the lab to perform simultaneous voice, data and video quality test. The image below shows a real-time lab setup with two stacked VQuad appliances.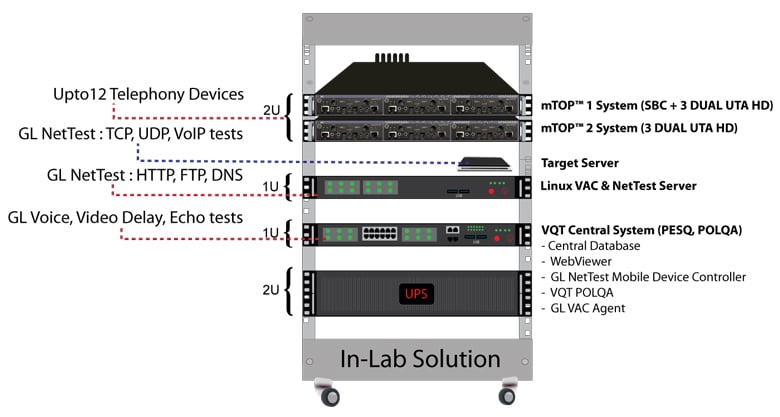 An in-lab setup. Source: GL Communications Inc.
Networks and Connectivity
The mTOP appliances can be used for testing the following networks:
Wireless Networks

Connectivity – Bluetooth NB & WB, PTT, GPS, 4-wire balanced I/O interfaces on Dual UTA HD
Devices – Military/mobile radios, 4G/3G/Wi-Fi smartphones (iPhone, Android, Blackberry), Bluetooth headsets/stereo/car kits, wired headset with smartphone automated call control (ACC)

VoIP Network

Connectivity – Internal SIP cores within VQuad (SIP and H.323 signalling - Does not require Dual UTA HD), 4-wire balanced I/O, HSET interfaces on Dual UTA HD
Devices – VoIP phones, HATS

TDM Network

Connectivity – T1/E1 interface facilitated through GL's T1/E1 analyzer hardware (ISDN and CAS signaling – Does not require Dual UTA HD)
Devices – Digital phones, PBX, media gateways over TDM network

PSTN Network

Connectivity – FXO Interface on Dual UTA HD
Devices – Analog phones, media gateway, PBX, ATAs over PSTN network