GL Communications Inc, a global provider of telecom test and measurement solutions, announced today its insight into timing measurement tools for next-generation air traffic management (ATM) networks.
Mr. Vijay Kulkarni, CEO of GL Communications Inc., said, "GL has developed MAPS TM-ATM (Timing Measurements in Air Traffic Management) test suite to accurately simulate end points in ATM network and provide critical timing measurements for various types of delay occurrences in signaling and voice transmission through the network. It includes all necessary hardware and software to identify, capture, timestamp, and correlate events at Analog, TDM and IP interfaces."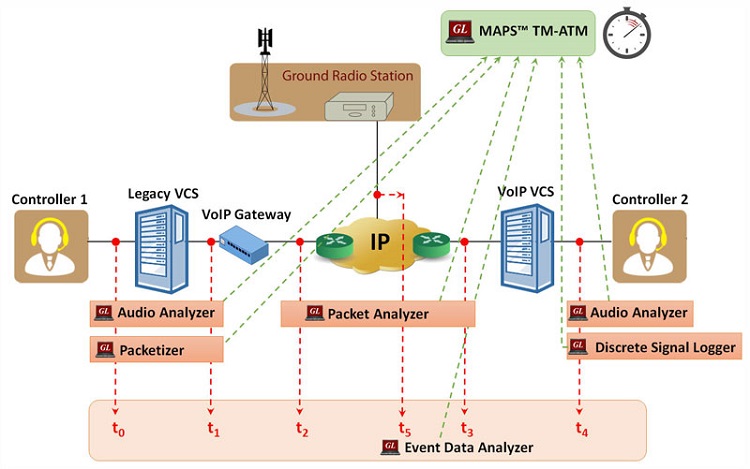 Source: GL Communications Inc.
Per the industry standards, the following network delay measurements are of primary interest:
Transmitter activation delay
Aircraft call indication delay
Ground transmission voice delay
Transmitter activation and aircraft call indication loopback delay
Ground reception voice delay
Ground transmission and reception voice loopback delay
Frequency key activation response time and more
Tools Used for Timing Measurement
MAPS TM-ATM (timing measurements in air traffic management) components can be broadly categorized into two sets based on the underlying hardware:
Packet products — packet analyzer, packetizer, discrete signal logger and event data logger — all of which are based on the same GL's PacketExpert Ethernet/IP tester. Their functionalities differ through scripts that cater to different needs of the test cycle.
Audio analyzer, based on VQuad Dual UTA hardware. Its main functionality is to simulate radio calls from CWP.
All components of TM-ATM are controlled by a centralized component called MAPS Administrator (TM-ATM client). MAPS TM-ATM supports a client server model, with components acting as servers, the MAPS admin acts as a client and controls all components acting as servers, from a centralized location.

MAPS Administrator (MA) uses TCP/IP to send/receive commands, controlling the following server applications:
Packet analyzer — Packet analyzer (PA) extends Ethernet testing capabilities of PacketExpert 10GX for 10 Gbps and 1 Gbps networks. The hardware unit is more compact and adds a 12-port user-configurable TTL trigger option as an important enhancement. The PA in the network functions like a highly precise Ethernet tap, filtering packets of interest from a bidirectional Ethernet link without disturbing the traffic. It generates output TTL signal pulses for every filter match, which can be processed using an external device like an oscilloscope.
Audio analyzer — A four-wire audio device that can connect to a CWP and emulate a controller by activating PTT and transmitting audio. The analyzer can inject and record analog signals at CWP, radio and VoIP gateway interfaces and generate TTL for different actions (PTT ON, PTT OFF, Send Audio, Detect Audio).
Packetizer or discrete signal logger — The discrete signal logger monitors the TTL output from the audio analyzer and generates a corresponding IP packet indicating a certain event has occurred. The packets generated by the discrete signal logger are named as discrete events and posted to the event data logger.
Event data logger — As seen in the image above, the event data logger is located at the central location and receives the event packets forwarded from the various packetizers or the packet analyzer systems throughout the network. It timestamps each received packet, decodes the packet to extract information and updates the events to the MAPS controller.