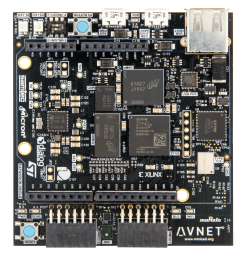 The MiniZed development platform. Source: AvnetAvnet has introduced a development platform based on the Xilinx Zynq-7000 all programmable system-on-chip (SoC) for designing cloud connectivity and industrial internet of things (IIoT) applications, such as motor control and embedded vision.
The MiniZed platform is small enough to fit into a shirt pocket and features on-board connectivity through USB, Wi-Fi and Bluetooth. Peripherals can be plugged into dual Pmod-compatible connectors, the Arduino-compatible shield interface or the USB 2.0 host interface. The Zynq-7000 SoC device family includes a single-core ARM Cortex-A9 processor paired with 28 nanometer Artix-7 based programmable logic.
Other features of the board include a button and switch physical board interface, user LEDs and JTAG circuitry. The starter kit is available for ordering now with shipments starting in early July priced at $89.