The Looking Glass, a new unique holographic display that uses a combination of light field and volumetric technologies, has launched on Kickstarter.
The Looking Glass is a patent-pending combination of light field and volumetric display technologies within a single new type of display that brings virtual 3D content to life in full-color at up to 60 fps. It generates 45 distinct views of a three-dimensional scene so that multiple people standing around the device can see different parts of the scene in the real world.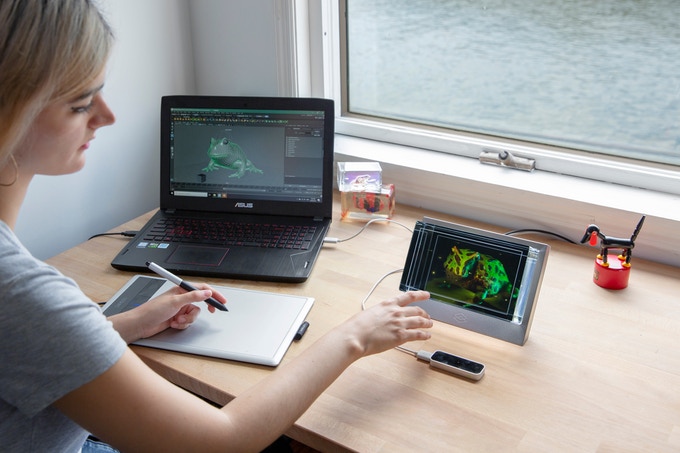 The Looking Glass. Source: Kickstarter/Looking Glass
With the Looking Glass, groups of people can see and interact with a virtual three-dimensional world at their desk, unaided by VR or AR headsets. The Looking Glass enables 3D creators to easily bring their work to life.
The Looking Glass comes with apps that were made using Looking Glass' HoloPlay Unity SDK. Backers will get access to an SDK that allows creators to develop interactive holographic apps of their own.
The device can handle 3D model and animations in OBJ, FBX, STL and gLTF format. These animations can be imported into the device with the Model and Animation Importer app.
Looking Glass works with many of the hologram apps that are already in app stores. Looking Glass can display volumetric video clips, holographic film shorts, light field and 3D scan viewer apps, new types of holographic games, virtual pets, CT-scan/DICOM importers, a WYSIWYG 3D model previewer for 3D printing, and more.
Developers can construct three-dimensional game scenes with expert 3D lighting and positioning changes in real-time, directly in the editor. They can also test how a character or asset behaves in a scene when moved around, and create more quickly by utilizing the three-dimensional spatialized scene of a Looking Glass.
The Looking Glass works with a wide range of peripheral add-ons including the Leap Motion Controller, Nintendo Switch Joy-Con Controllers, Intel RealSense, Microsoft Kinect, Xbox Game Controller, Arduino and more.
Creators can work with tools they already know and export in familiar formats either directly through the 3D Model and Animation Importer or as an imported asset into a Unity scene.
The Looking Glass allows creators to get an advanced look at how their 3D designs will look and feel. They can also share these designs with their team in real time, speeding up the feedback and iteration process.
Client presentations and engagement can be enhanced with the Looking Glass with the ability to transform, scale, rotate and manipulate a three-dimensional scene in real-time.
Full-on 3D classrooms can be created with the Looking Glass without the need for 3D glasses or VR/AR headgear. With the Looking Glass, multiple students can interact with one system.
To learn more about or back the campaign, visit the Kickstarter page.