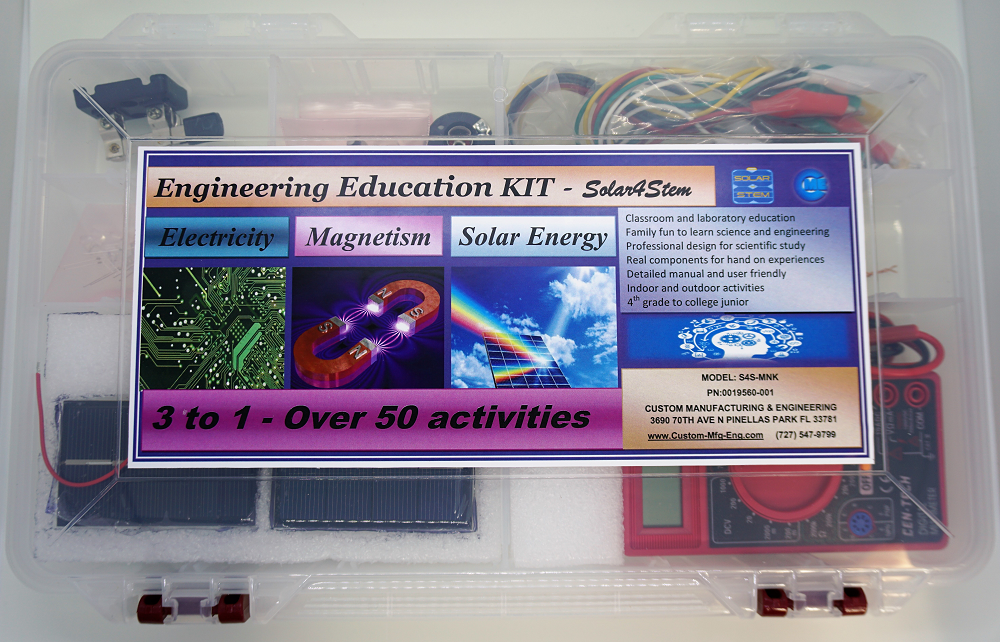 The STEM education kit. Source: CME/solar4Custom Manufacturing & Engineering (CME), under its solar4 brand, has announced the launch of its new solar4STEM 3-in-1 Electricity Kit. This kit is a portable educational kit for electricity education in the classroom or science lab. The ready-to-use kit includes over 50 activities in electricity, solar energy and magnetism for guided, hands-on experimentation. This electricity-focused kit is for grades 4-8. The kit is part of CME's support of science, technology, engineering and math (STEM) initiatives to equip teachers and students with the ability to problem solve, gather and evaluate evidence, and make sense of information.
The solar4STEM Electricity Education Kit is designed for upper elementary and middle school science and engineering-oriented classrooms and STEM academies and day camps. The kit is a new addition to CME's flagship educational training product called solar4STEM 200, an experiential solar energy instructional aid for school administrators, teachers and other STEM champions in industry, government or foundations who seek to provide energy education in their schools.
The kit has realistic components, a handheld multimeter, a collection of suggested student activities provided in an instructional guide and more. It aids teachers in preparing class lessons and provides students with real-world activities that can be performed indoors or outdoors.
The solar4STEM Electricity Education Kit is available online.