Cinch Connectivity Solutions, a Bel group company and provider of reliable connectivity solutions, announces the expansion of its Trompeter adapter family, supporting the interface of coax systems to triax cable interconnects. Cinch Connectivity Solutions' mission is to provide products that continually deliver the highest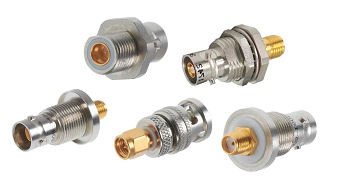 Source: Cinch Connectivity Solutionsquality signal integrity for the most demanding applications.
Modern communications systems, as well as test systems, often require the use of both coaxial and triaxial connector and cable interconnects. When it comes to connecting these two types of interfaces, our Trompeter adapters offer the best and most compact solutions. These adapters are configurable to best support your application requirements.
Trompeter is recognized as a global leader in delivering best-in-class RF connectivity products. The Trompeter line of patch jacks, RF connectors, cable assemblies, HDTV digital technology and DS3 connectivity solutions is unrivaled throughout many industries, including telecom, central office, broadcast, military aerospace and instrumentation worldwide.
For more information on the coax/triax adapters series, visit belfuse.com/cinch or download the new Coax/Triax Adapters datasheet. These products are also available through distributors Digi-key, Mouser and Newark and in Europe at Farnell.