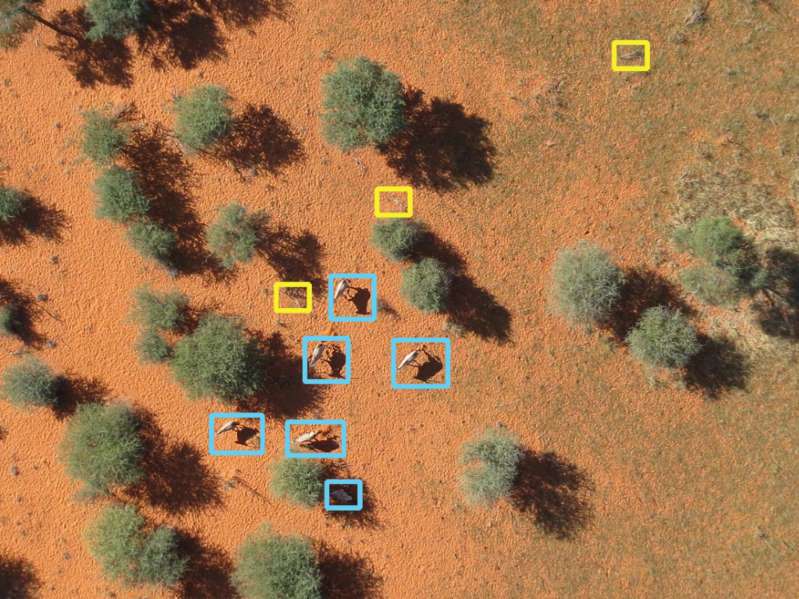 A photo taken by the drone and analyzed by the AI system. Source: SNSF
Swiss researchers have developed an artificial intelligence (AI) deep learning network that pairs with drones to count large mammals in nature reserves. The drones take photos of the area and then the network uses object recognition to analyze the photos and count how many animals are in the reserve. The use of drones is huge because they can cover large amounts of the area much quicker than a human could. The drones take 150 images per square kilometer.
Decoding the raw data from the drone images is done by the deep learning network. The algorithm allows researchers to eliminate empty photos and highlight the areas of photos that have wildlife in them.
"For the AI system to do this effectively, it can't miss a single animal. So it has to have a fairly large tolerance, even if that means generating more false positives, such as bushes wrongly identified as animals, which then have to be manually eliminated," said Devis Tuia, an SNSF professor now at the University of Wageningen (Netherlands) and a member of the team behind the Savmap project.
The researchers used crowdsourcing to gather a base group of photos for the AI network to learn from before analyzing the new photos. Two hundred researchers went over photos that had wildlife and fed these photos for the system to learn from. From there, the system has enough information to analyze new photos.
The system was given penalty points for photos based on errors. For example, the system demerits one point for mistaking a bush for an animal and 80 points for missing an animal completely. This ensured that the system's high priority is identifying all animals in a given photo. After the new photos were whittled down to just animal photos by the system, human researchers go over the photos to confirm the system's findings.
Drones from Sensefly have been used since 2014 to observe and fly over wildlife reserves. This is one of the first times that an AI and deep learning system was used to analyze the wildlife photos.
With the new drone/AI buddy system, one researcher was able to operate a full-scale analysis of a Namibian reserve in a single week. Without this technology, it could take weeks to do the same amount of work.
The paper on this research was published in Remote Sensing of Environment.