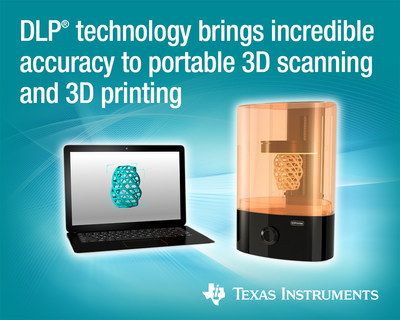 The new DLPC347x controllers. Source: TITexas Instruments (TI) has introduced two new DLP Pico controllers that bring micron-to-sub-millimeter industrial accuracy and speed to desktop 3D printers and portable 3D scanners.
The DLPC347x controllers bring the high performance that is typically found in industrial-grade applications in a smaller form factor for desktop 3D printers and scanners, TI said.
Developers can pair the new DLPC3470, DLPC3478 or DLPC3479 controller with one of four existing DLP Pico digital micromirror devices (DMDs) to design a variety of battery-powered and handheld designs. The fast switching speed of the DMDs and the new controllers allow 3D printing speeds to be five times faster than existing technologies, TI said. While at the same time fine details of an object can be accomplished with micron-level accuracy for applications such as dental scanning, 3D modeling and 3D vision for robotics.
Production samples of the DLPC3470 and DLPC3478 controllers will be available in the third quarter of this year with the DLPC3479 controller becoming available in the first quarter of 2019.