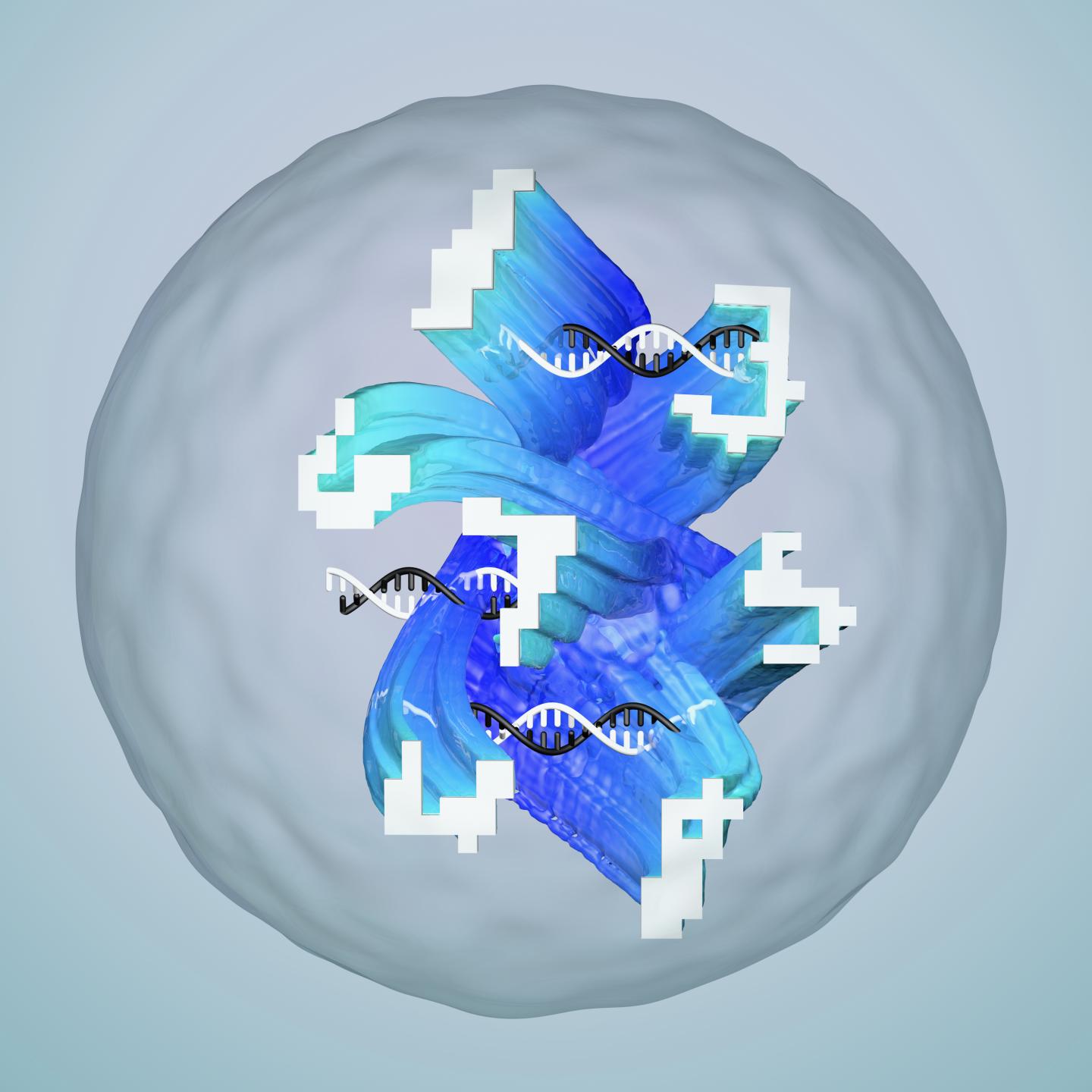 Conceptual illustration of a droplet containing an artificial neural network made of DNA that has been designed to recognize complex and noisy molecular information, represented as 'molecular handwriting.' Source: Olivier Wyart
Researchers from Caltech have taught an artificial neural network made out of DNA to identify handwritten numbers. This brings artificial intelligence (AI) one step closer to integrating AI into synthetic biomolecular circuits.
"Though scientists have only just begun to explore creating artificial intelligence in molecular machines, its potential is already undeniable," says Lulu Qian, assistant professor of bioengineering. "Similar to how electronic computers and smartphones have made humans more capable than a hundred years ago, artificial molecular machines could make all things made of molecules, perhaps including even paint and bandages, more capable and more responsive to the environment in the hundred years to come."
Artifical neural networks are mathematical models that are designed with the human brain in mind. These neural networks function just like networks of neurons and can process complicated information just like a human brain.
"In this work, we have designed and created biochemical circuits that function like a small network of neurons to classify molecular information substantially more complex than previously possible," says Qian.
In order to test the new artificial neural network made of DNA, the researchers gave the system a task: to understand and recognize numbers hand-written by a human.
The new network is made out of DNA that can carry out chemical reactions in order to identify molecular handwriting. Molecular handwriting is made up of 20 unique DNA strands from 100 potential molecules. Each of these strands is assigned to an individual pixel in a 10 by 10 pattern in a test tube. The network has been able to classify molecular handwriting into one of nine categories.
But before the network was able to do this complicated task, a simpler system needed to be created. The Caltech team first built a neural network that could distinguish between 6 and 7. This network used a "winner take all" strategy that was designed by the researchers for encoding. In this strategy, one type of DNA molecule was labeled the "Annihilator." The annihilator goes through the potential numbers that a molecular handwriting sample could be and then selects the winner that is identified as one of those numbers.
"The annihilator forms a complex with one molecule from one competitor and one molecule from a different competitor and reacts to form inert, unreactive species," says Kevin Cherry, Qian laboratory graduate student. "The annihilator quickly eats up all of the competitor molecules until only a single competitor species remains. The winning competitor is then restored to a high concentration and produces a fluorescent signal indicating the networks' decision."
The new, complex DNA neural network was then developed based on the first, more simple network. After testing and development, the new network was able to identify numbers 1-9 of molecular handwriting.
The paper on the DNA neural network was published in the journal Nature.