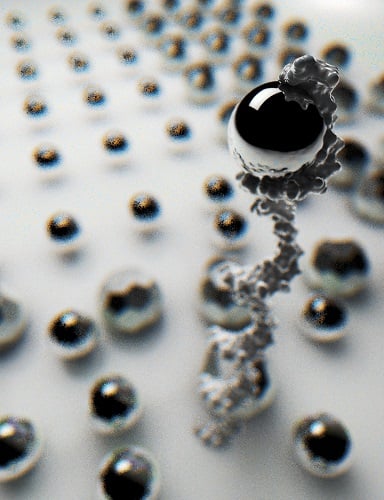 An artistically licensed concept illustration of a DNA robot sorting two types of cargo. Source: California Institute of Technology Researchers at the California Institute of Technology have made a breakthrough in technology involving tiny robots made of DNA that can pick up particles and deliver them to a different area.
The development could be used in a wide range of applications such as robots that can be used to assemble chemical compounds or that can rearrange nanoparticles on circuits.
Researchers assembled various strands of DNA, which include one "leg" that sprouts two feet and two arms that carry a piece of cargo. The robot moves on a 2D track of DNA origami with one foot anchored to a track at a given time. As one foot steps down on a track, the other becomes free. The robot then walks randomly along the track until it encounters the object it is designed to carry—here it is as a fluorescent molecule or a DNA strand that binds to the robot's arms.
The robot then carries the molecule or DNA to a target strand of DNA where that strand automatically snatches the cargo from the robot leaving the robot free to explore other locations on the origami surface and pick up another piece of cargo.
Upon testing, researchers found that individual robots have an 80 percent chance of successful delivery and the time it takes for one step of the DNA robots takes about five minutes, and they can move about six nanometers.
Researchers believe they can decrease the time to deliver cargo dramatically by giving the robot single-stranded "tails" or by using protein motors programmed by DNA.
The full research can be found in the journal Science.