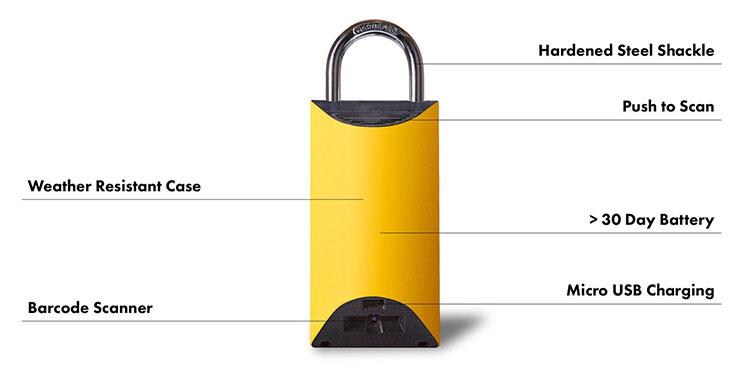 BoxLock is designed to keep packages safe and save the delivery person time. Source: BoxLock
BoxLock Inc. has released an internet-connected security padlock to protect package deliveries. The lock is a smart, IoT padlock designed to protect deliveries. The lock combines a barcode scanner, connectivity and padlock.
BoxLock is designed to secure deliveries for the customer while being respectful of the carriers' time. BoxLock uses a barcode scanner to scan the tracking number on deliveries, validating them in real-time, then giving the driver access to a locked mailbox. BoxLock connects to the internet to confirm access should be granted, creating real-time access logs to prevent theft and fraud. The recipient can open BoxLock to retrieve their deliveries with the iOS or Android app.
After setup with the free mobile app, the BoxLock is placed on a chosen delivery receptacle, and the receptacle is firmly locked until a delivery arrives. The mail driver scans a package, and after a two-step verification process, the lock opens when a package is scanned that's "out for delivery" to that address. This allows the driver to leave the recipient's package in a secure receptacle. The recipient then gets a notification that the package has been delivered.
The exterior of BoxLock is a hardened steel shackle enclosed in a weather-resistant case with a barcode scanner at the bottom. There is a built-in micro-USB port for charging. BoxLock stays charged for more than 30 days from a full charge.
BoxLock is compatible with all major US shipping carriers and there's no additional software required. BoxLock saves carriers from having to wait for someone to answer the door on attended deliveries and reduces the likelihood that packages have to be redelivered.
BoxLock is available on Amazon to all Prime members. BoxLock retails for $129. Boxlock will be a part of the upcoming Amazon Prime Day July 16.
For more information on BoxLock, visit the BoxLock site here.