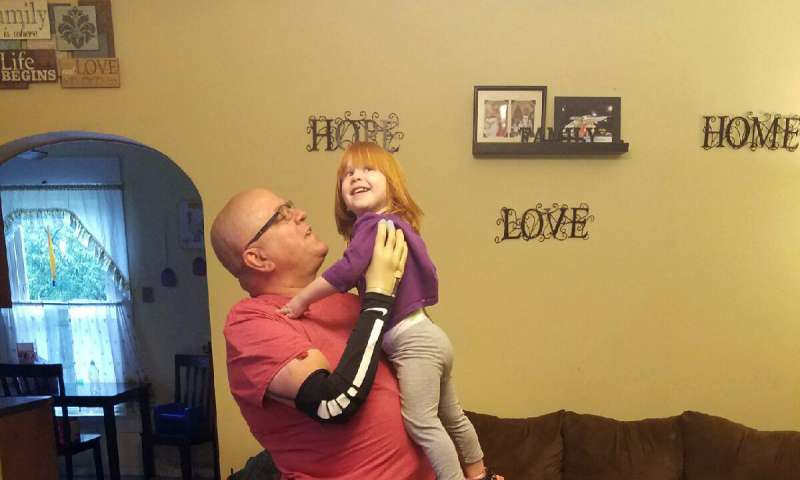 Amputee Keith Vonderhuevel lifts his granddaughter with the help of a sensory-enabled prosthetic hand. Source: Case Western Reserve University
Case Western University researchers, scientists from Brown University and members of the U.S. Department of Veterans Affairs in Cleveland and Rhode Island have completed the first study on the effect of sensory-enabled prosthetics outside of the lab.
Two participants in the study sent in video journals of their time using the sensory prosthetics. This is the first time that research of this kind has been studied outside of the lab and in the users' homes, and the first time that research has been focused on the psychosocial effects of using these prosthetics.
The results of the study showed that the participants used the mechanical hand more regularly and for longer than they used a traditional prosthetic. It also reported that the participants had more positive psychosocial effects. They felt more confident in completing tasks as well as in social situations.
In the past, studies on the positive effects of sensory feedback with prosthetics have only been conducted in the lab. It is important to know what happens when people use prosthetics on their own where they are most comfortable.
"In addition to wearing the artificial hand for more time and for more daily tasks when it was sensory enabled, the participants had greater confidence in using the hand to do tasks and to socially interact with loved ones," said Emily Graczyk, a post-doctoral researcher at Case Western Reserve University and lead writer on the study.
The participants reported overwhelming positive effects when using the mechanical prosthetic. One of the participants even said that giving back the prosthetic felt like "losing my hand all over again."
The next step for the researchers is to study and explore implanting devices to route the amputee's neural connections with Bluetooth. This would allow the amputee to "feel" the new hand.
The paper on this study was published in Scientific Reports.