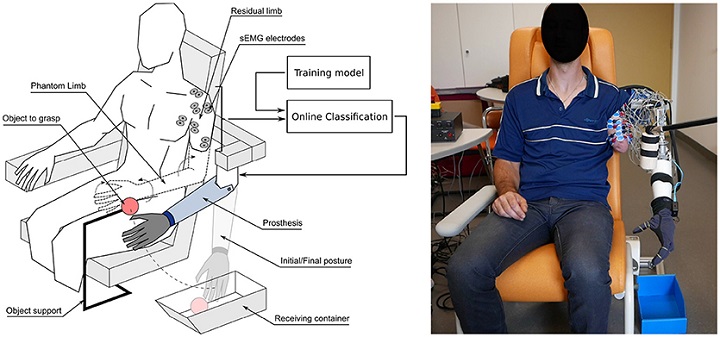 (Left) experimental setup during one of the functional tasks of grasping an object, with the arm prosthesis controlled through the associated mobilization of the phantom limb. (Right) participant bending his elbow to grasp a cylinder. Source: N. Jarrassé/CNRS 2018
The sensation of phantom limb movement (PLM) has been harnessed by myoelectric control approaches to enable manipulation of prosthetics by arm amputees. An improved technology for facilitating prosthetic control by transhumeral — above the elbow — amputees was developed by researchers from CNRS, Aix-Marseille University and Sorbonne University in France.
PLMs are the result of specific muscle contractions in the remnant limb, but for the transhumeral patient population these movements stem from muscle groups not connected with joints used before the amputation. New algorithms were designed to recognize this phenomenon and to reproduce PLM by the prosthetic via intuitive control.
Control of the prototype was based on PLM and myoelectric pattern recognition techniques. Two transhumeral amputated participants repetitively grasped an object with an unworn eight-active-degree-of-freedom prosthetic, using only two repetitions of each PLM to train the classification architecture. The subjects demonstrated effective control of the prosthesis and achieved the desired task after only a few minutes of familiarization.
Researchers will continue to fine-tune the system, as completion times were increased in comparison with performances obtained by a control group using a simple graphical user interface control.
The study is published in Frontiers in Bioengineering and Biotechnology.