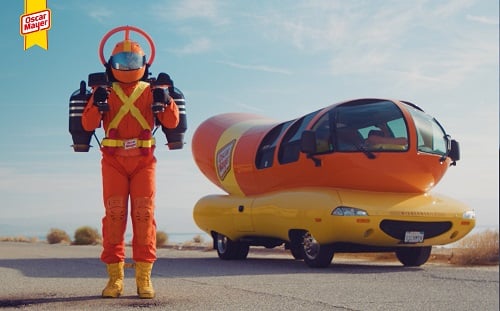 The jet pack comes equipped with hot dog carrying cases to deliver food. Source: Oscar MayerLast year, Oscar Mayer showed off that it is keeping up with technology in upgrading its traditional Wienermobile with the Wienerdrone, a delivery unmanned aerial vehicle (UAV) capable of transporting and delivering hot dogs to waiting customers.
Now, the hot dog giant is one-upping its technology portfolio with the Super Hotdogger, a custom designed jet pack equipped with hot dog carrying cases, a helmet that can identify consumers on the ground and the ability to reach 15,000 feet in the air.
Oscar Mayer says the technological innovations are part of its strategy to spread the word about its product and how the company last year made the change to remove all nitrates and nitrites from its hots dogs as well as by-products and artificial preservatives.
Oscar Mayer plans to fly the Super Hotdogger on its first public flight at the Seaport District in New York City.
The jet pack will join the existing fleet of vehicles including the Wienermobile, WienerDrone, WienerRover, WienerMini and WienerCycle.