The graceful and efficient swimming motions of the manta ray are emulated by MantaDroid, a robotic manta ray designed at the National University of Singapore. The bio-inspired autonomous underwater vehicle (AUV) replicates the propulsion mechanism used by the real thing, which locomotes by flapping its pectoral fins.
MantaDroid can swim at a speed of twice its body length per second (0.7 meters per second) for up to 10 hours. The robotic juvenile manta ray measures 35 centimeters in length, 63 centimeters in width and weighs 0.7 kilograms.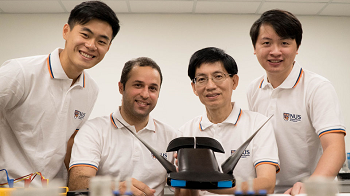 The research team developed MantaDroid, a robotic manta ray that can swim at the speed of twice its body length per second for up to 10 hours. Source: National University of SingaporeThe researchers tested 40 different fin designs during two years of fluid dynamics investigations and experimentation. The final fin design selected is a pair of flexible pectoral appendages composed of PVC sheets.
"Unlike other flapping-based underwater robots that replicate manta ray's flapping kinematics by using multiple motors to achieve active actuations throughout the fins, MantaDroid is powered by only one electric motor on each fin. We then let the passive flexibility of the fins interact naturally with the fluid dynamics of the water to propel the subsequent motions," explained Associate Professor Chew Chee Meng.
The robot is considered a promising alternative to traditional propeller-based thrusters used in conventional AUVs, and could potentially operate for a longer range. MantaDroid features a flat and wide body that can accommodate a range of sensors for use in studying marine biodiversity, measuring hydrographic data and performing search operations.
Its swimming capability at different depths and its ability to maneuver in underwater currents will next be tested in the ocean environment.