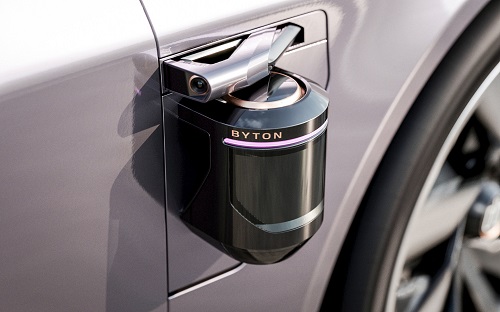 The retractable LiGuards that can be used to signal pedestrians and help with autonomous driving. Source: Byton
Gearing up for CES Asia 2018, electric car startup Byton has released details of its new prototype sedan, called K-Byte Concept, which will be self-driving and feature retractable sensors.
Working with autonomous driving technology vendor Aurora — the two companies formed a partnership earlier this year — the K-Byte will include Level 4 autonomous driving, as defined where the car can operate without human input or oversight, but only under specific conditions.
The goal is to have a fleet of prototype vehicles with Level 4 autonomous driving capabilities ready for testing by 2020 in preparation for mass production and delivery.
The vehicle will integrate front and rear LiDAR sensors for full-view panoramic scan of the vehicle's surrounding. Retractable LiGuards, or side LiDAR, will be located below the side-view cameras and be deployed during self-driving mode to ensure safety. These sensors will then retract automatically during parking maneuvers. The LiGuards can also illuminate to signal pedestrians.
Byton has renamed its vehicles with the label Byte in order to identify three different cars that will be built on a shared platform. The prototype SUV Byton, introduced at CES 2018 in Las Vegas, has been renamed the M-Byte Concept.
The company said building cars on the same platform allows it to easily streamline and scale the production cycle. Byton said it still has plans to deliver the vehicles to market by 2021.