At last year's CES, an autonomous, electric car startup came out of nowhere and delivered one of the more interesting prototypes from the show.
That startup, called Byton, has returned to CES 2019, which is taking place this week in Las Vegas, and is giving a closer look at its flagship self-driving, all-electric vehicle, the M-Byte.
The M-Byte features what Byton calls the largest in-car display for a production automobile. The display shows information and various content options without affecting the driver's line-of-sight and automatically adjusts brightness according to changes in ambient lighting.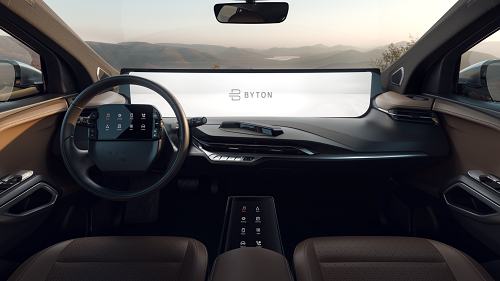 The interior of the M-Byte featuring touchscreens in the steering wheel and the large display. Source: BytonByton's display will also contain a wide array of digital content including music, videos, photos, files, contacts and more. The shared experience display (SED) features a wraparound design with air conditioning vents, gear selector and other hard buttons located in the center along with driver monitoring and multiple interaction modes including voice control.
At CES, Byton will give a closer look at the 7 inch driver tablet at the center of the steering wheel just above the driver airbag. This will serve as one of the main interfaces for the driver to configure the vehicle and interact with the larger SED, the company said. An additional 8 inch Byton touchpad is situated between the driver and front passenger seats, allowing the front passenger to control the SED and use the same interactive options as the driver.
Rear passengers have access to independent rear-seat entertainment screens that also share content with the SED. Byton has been working with Amazon to jointly develop voice control in vehicles and the video shows how the prototype vehicle will eventually have Amazon Alexa voice activation inside.
Byton said it is still on track to debut the M-Byte in the middle of 2019 with mass production slated to begin by the end of the year. The company is currently testing safety and quality standards of the M-Byte in China, the U.S. and Europe. The Nanjing production plant is on track to be completed this year and the company is working with Bosch, BOE, Faurecia, AIDA Engineering of Japan and KUKA and DÜRR of Germany in order to meet production and technology requirements.
"We have made solid progress in the construction of our Nanjing plant and prototype vehicle testing," said Daniel Kirchert, president and co-founder of Byton "This is a vital year for Byton and our global team is sparing no efforts to achieve our goal of volume production."
Click here to find Electronics360's full coverage of CES 2019.