While autonomous vehicles were a big deal at this year's CES 2018 in Las Vegas, it was also time to roll out the latest and greatest of the future of mobility in the form of crazy concept cars.
These concept cars represent the latest technology and ideas from automotive and aerospace OEMs that may not exactly be ready for mainstream use but are cool nonetheless and represent a future of transportation where things are more automated and are designed for consumer comfort.
Here are the five most interesting vehicles introduced at CES last week:
1) BYTON's Concept SUV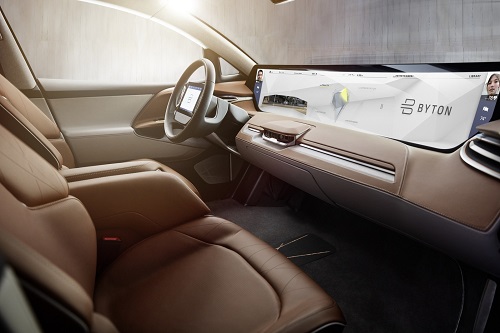 A 49 x 9.6 inch display provides as the focal point for Byton's concept SUV. Source: BytonMaking its debut at CES was Byton, an electric car start-up that introduced a drivable concept car with built in smart mobility and autonomous driving. The car features an awesome 49 x 9.8 inch center display console with three additional display screens.
The car features voice recognition, touch control, biometric identification (three facial recognition cameras that are embedded on both sides of the car) and hand gesture control technology. It also incorporates Amazon's Alexa so you can share your content from home into the car including audio and video content. The concept car also features an invisible door handle and invisible antennas.
The new SUV will be manufactured in Byton's plant in Nanjing, China, with a starting price of $45,000. The car is slated to be available in China toward the end of 2019 with it coming to the U.S. and Europe in 2020. The Byton SUV can travel about 323 miles in a single charge.
2) Bell Helicopter's Air Taxi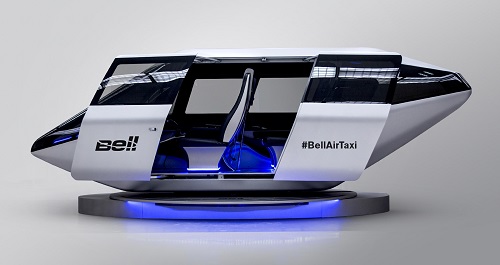 The air taxi will transport four passengers in an urban environment. Source: Bell HelicopterBell Helicopter billed itself as the first major helicopter manufacturer to make its presence at CES this year with a concept vehicle air taxi that can transport four passengers at a time through the air in urban environments.
During the flight (ride?), passengers will be able to sync into the air taxi's control center where they can view news, hold video conference calls, share documents with other passengers or listen to music or other media.
At CES, Bell Helicopter used augmented reality to show off how the concept air taxi would be used including passengers attending a red carpet premiere, trips across a city and a night flight over a lit up skyline. While many details into the specs of the air taxi are known, it is a cool concept and something we all may be riding in sooner rather than later.
3) Olli by Local Motors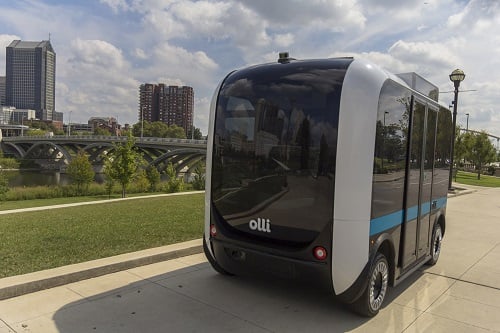 Olli is a new transportation concept focused on providing better ways of transporting those with disabilities. Source: Local MotorsLocal Motors brought to CES a concept transportation vehicle in collaboration with IBM and the CTA Foundation called Olli that represents a change in how mass transportation will look in the future and enable those with disabilities for an easier time getting around.
The three companies looked into four different aspects of the concept vehicle that would improve transportation for those with disabilities. The aspects include improving visual impairment, hearing impairment, physical impairment and cognitive impairment. Each of these aspects has different needs and ways of interacting. Local Motors says it does this by directing anyone such as those that are visually impaired to an empty seat using machine vision to identify open spots and audio cues to direct the passenger.
The concept vehicle is nearly all 3D printed using machine vision and other technologies from IBM.
4) Toyota's e-Palette Concept Vehicle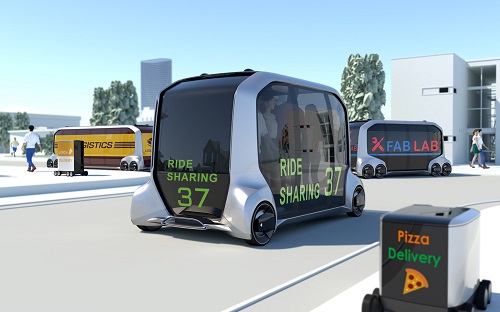 The e-Palette concept can be used for mobile businesses or ride sharing. Source: ToyotaToyota not only introduced a new concept vehicle but a new alliance for mobility services called the e-Palette Alliance.
The concept vehicle is designed to meet the future needs of both multi-mode transportation as well as business applications. The vehicle is fully automated and is all-electric and designed to be scalable and customizable for a range of mobility as a service (MaaS) applications such as consumer electronics mobile store, pizza delivery (Pizza Hut debuted its own automated delivery vehicle during CES as well and is a partner in the alliance), ride sharing (Uber is also a partner) and other business uses.
The concept vehicle contains an open vehicle control interface and a set of software tools to allow partners in the alliance to install their own automated driving system and vehicle management technology.
5) Harman's Digital Cockpit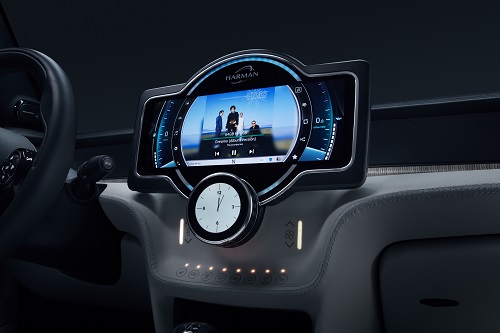 Harman is looking to offer new ways in how autonomous driving and connectivity is done in vehicles. Source: HarmanSamsung Electronics Co. Ltd. acquired Harman about a year ago and since that time the newly merged company has been working toward a joint development concept that will change the connected car forever as well as give the inside of the vehicle a makeover.
The digital cockpit will feature what the company claims is the first automotive-grade 5G ready connectivity solution as well as a suite of flexible and scalable features that connects lifestyles while not distracting drivers. The suite includes a cluster of commands that can be accessed via voice, haptic feedback and traditional physical knobs and steering wheel controls in a single, center screen. The multi-modal approach allows for interactions with different human-machine interfaces that also includes a projection mode via a user's smartphone.
Harman is providing the cockpit for all levels of vehicles from an entry-level to mid-to-high level configuration and premium cars—which will provide virtual personal assistants, portable profiles, augmented reality and more.