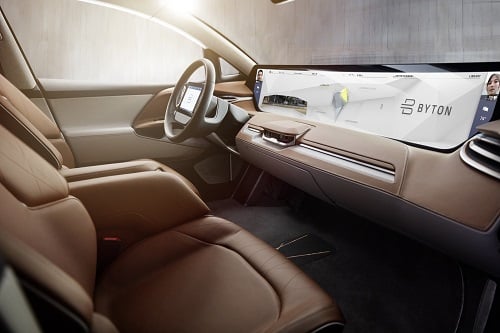 The interior of the Byton concept SUV unveiled at CES. Source: BytonYet another partnership has been established to enable the next generation of transportation in autonomous driving.
Earlier this week, Nvidia and Continental announced a partnership to develop autonomous systems for OEMs. Now, electric car vendor Byton has formed a partnership with Aurora, a self-driving technology company, to help develop Level 4 autonomous-driving vehicle capabilities that will be installed into Byton vehicles. Eventually, the partnership will lead to Level 5 autonomy in the vehicles.
Byton made a splash at the recent CES 2018 show where it debuted its concept SUV, which included a huge 49 by 9.8-inch center display console with three additional display screens with voice recognition, touch control, biometric identification and hand gesture control technology.
In the next two years, Byton and Aurora say they will jointly conduct pilot deployment of Aurora's Level 4 autonomous driving systems into Byton vehicles. The companies will also explore the use of the systems in Byton's series production vehicles
Level 4 autonomy is a system where the car operates without human input or oversight depending on the factors of the road and geographic area. At this level, cars can drive independently but with the expectation that humans may need or choose to drive in bad conditions.
Byton says it will design and build its electric cars for the Chinese, U.S. and European markets with sales set to begin in China in 2019 and in 2020 in the other regions.