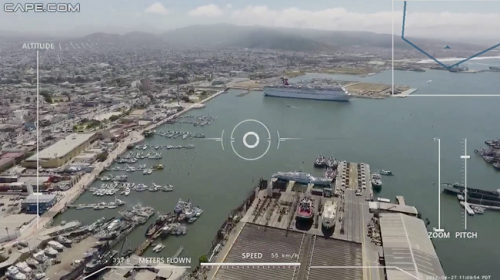 A drone using the Aerial Telepresence technology. Source: CapeDrone maker Cape has announced that it has helped the Ensenada Municipal Police Department (DSMP) to decrease crime rates by more than 10 percent through the use of commercial drones equipped with the company's Aerial Telepresence technology.
The city flew more than 1,600 flights in the first four months of operation, reducing call response times, providing resource and time savings and improving safety and protection of the city's officers and first responders.
Ensenada is a major tourist hub in Mexico and one of the priorities for the DSMP is to protect residents and tourists. Since October of last year, DSMP has been using drones across its daily operations through ongoing patrols, crime prevention, emergency call and response and search and rescue.
The police force said drones have helped decrease home robberies by 30 percent, drop violent robberies by 25 percent and decrease vehicle theft by 22 percent. Drones have also been used to help with 513 arrests. Cape-enabled drones have reduced non-emergency call response times by 95 percent and emergency call response times by 90 percent, the company said.
"Drones have proven instrumental in helping our officers and first responders, taking criminals off the streets, and most importantly, keeping our community safe," said Marco Antonio Novelo Osuna, mayor of Ensenada. We are extremely proud of what we have already accomplished with Cape, and are excited to expand our use of drones throughout the county of Ensenada."
The DSMP runs upwards of 25 flights per day with drones providing more than six hours of real-time aerial observations over the city. The drone can be launched or redirected to a call location for incident response and to aid in search and rescue efforts.
Cape is expanding its program with partnerships with the city of San Diego and the Chula Vista Police Department, both in southern California.