Part one of Bots on the beat looked at the robots designed to enhance the capabilities of law enforcement agents. Among those summarized were robots capable of performing reconnaissance, bots for sharpening law enforcement accuracy on the range and robots that secure perimeters and borders. Part two of Bots on the beat will look at more patrol bots, traffic bots, crime-forecasting bots and active shooter detecting bots.
Patrol bot
Singapore has debuted a new member of its police force: an actual robotic police officer, or "robocop."
The autonomous robot is capable of walking the beat around a local convention center that plays host to a number of international summits and conferences.
With a swiveling head and flashing lights, the unnamed white robot moves on four wheels and measures at about 5 ft tall.
Developed by the Singapore police department, the prototype transmits a 360° picture of its patrol area and navigates independently by following a pre-mapped route while avoiding obstacles.
Traffic bot
Routine traffic stops can sometimes be a danger to both law enforcement and drivers, due to passing vehicles or — in extreme cases — situations that turn violent. As a possible solution to such dangers, Reuben Brewer, a senior robotics engineer at SRI International, a nonprofit research institute, has developed a police robot that can approach drivers and issue tickets without human police officers leaving their patrol cars.
The robot "can't hurt or be hurt," according to reports. It attaches to the patrol vehicle and wheels itself toward a stopped vehicle. The robot is outfitted with a screen that displays the human officer's face, which enables communication with the driver via webcam, and is able to scan a driver's license and generate a ticket. These instruments are mounted on a retractable arm to better interact with stopped drivers. The robot can also deploy road spikes in the event the driver attempts to flee. All this occurs while the human officer remains seated safely in a patrol car.
Night watch bot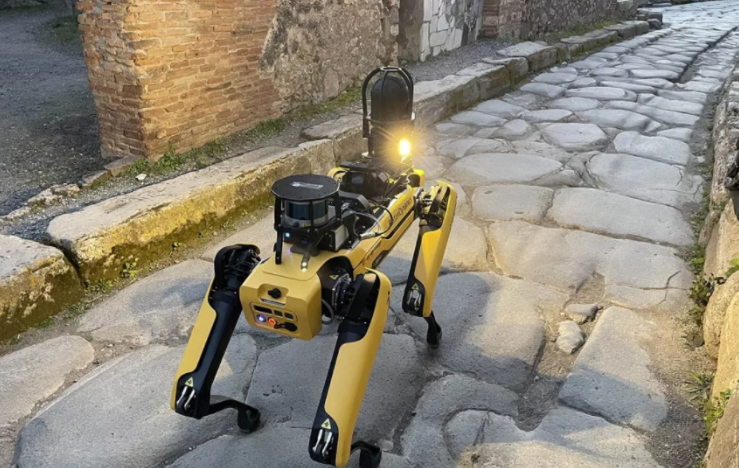 Source: Archaelogical Park of Pompeii
Visitors to the Italian city of Pompeii, the site of the Mount Vesuvius eruption of AD 79, which covered the city and its people under ash and pumice, will likely take notice of the robotic dog traversing these ancient streets. Spot the robot dog from robotics manufacturer Boston Dynamics is currently employed as a security guard, autonomously protecting the historic site against relic hunters. Making Spot uniquely qualified for such a task is the robot's ability to navigate uneven terrain and its ability to access subterranean areas that would be dangerous to human security guards. Equipped with cameras and sensors, Spot is able to "spot" intruders while also capturing 3D data of Pompeii's remaining structures.
Crime-forecasting bot
Though not a bot, per se, social scientists from the University of Chicago have developed an algorithm that forecasts crimes in urban areas one week ahead of time with a 90% rate of accuracy.
To accomplish this, the algorithm divides a target city into 1,000 sq ft tiles and examines the historical data on violent and property crimes from those regions to make predictions about future incidents, according to the team.
Unlike similar and controversial algorithms designed for the same task, the University of Chicago team suggests that their model is different because it doesn't examine crime as emerging from hotspots and spreading to other areas, but rather analyzes previous crime reports among many other factors.
Active shooter bots
Robots and drones are being developed by ZeroEyes and Aslyon Robotics for detecting active shooters.
By combining ZeroEyes' AI-based gun detection video analytics platform with Asylon's aerial drone and robot dogs, the companies envision the technology will provide video feeds to these machines for identifying armed individuals and providing end users with an autonomous response.
The companies suggest that real-time intelligence during an active shooter situation will enable faster response times to protect both civilians and law enforcement.
The technology is expected to be outfitted on unmanned vehicles and will feature lights and audible alarms to distract shooters, thereby allowing more time for law enforcement to respond to threats faster. When the platform detects a weapon, operation center analysts verify the detection and alert first responders in roughly three to five seconds.
This is just a sampling of the robots emerging to assist the law enforcement sector, promising to improve their capabilities while also keeping agents safe by automating certain dangerous tasks. Check back with Electronics360 for more on these and other robots and automation tech.