3D printing is becoming a great resource for all kinds of companies and fields to take advantage of. It's currently used in the power utilities industry, snow machine parts, printing electronic circuits and more. 3D printing has many potential applications, but possibly the most exciting industry taking advantage of 3D printing is the medical field. Medical applications, such as printing soft- human tissue-like structures, printing prosthetics for hearing loss and printing knee replacements employ additive manufacturing technologies. Along with these new uses for 3D printing in the medical field, there are many companies dedicated to 3D printing specifically for medical uses.
This article highlights 10 of these companies representing 3D printing in the medical field.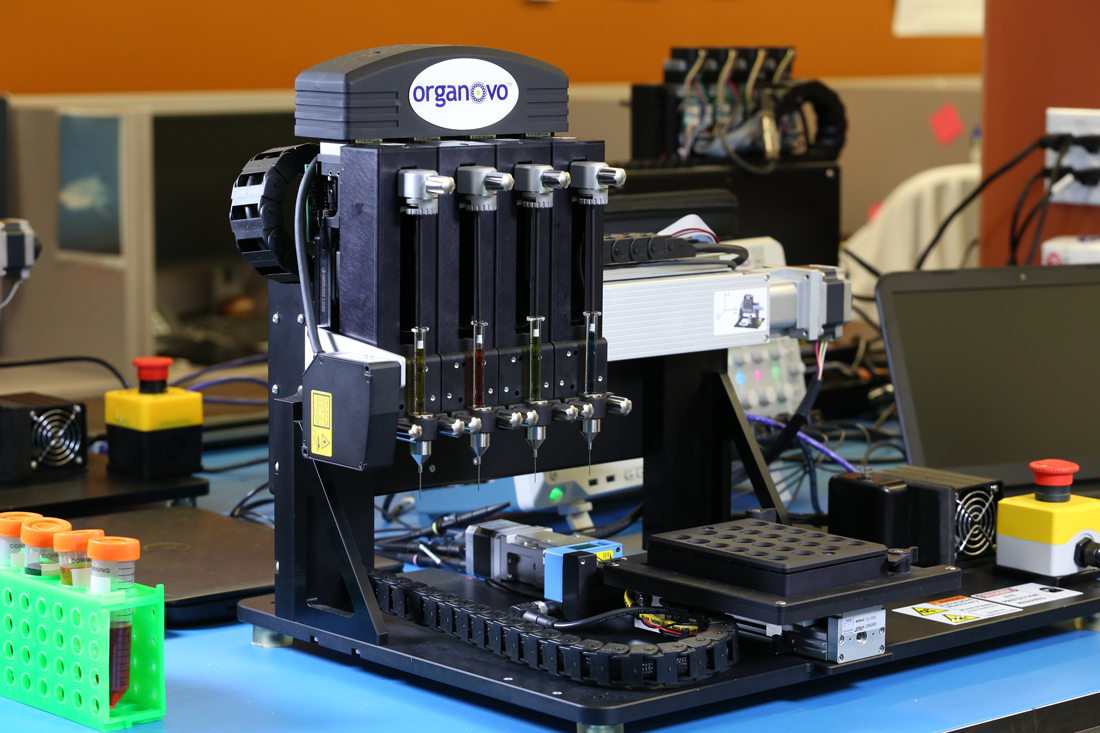 The Organovo bioprinter (Source: Organovo)
1) Organovo
Organovo used 3D printers to create human tissues for medical research and therapeutic applications. Organovo teams up with academia, pharmaceutical companies and other industries to use its 3D-printed tissues for drug testing, treatment testing and developing medical cures quicker than current methods. These tissues could possibly replace animal or human testing in the medical field, so the drugs and cures can be implemented quicker. The company's ExVive Human Liver and Kidney Tissues have been used in toxicology and preclinical drug testing successfully.
Cyfuse Biomedical's name symbolizes biological tissue regeneration from cells (cyto, meaning cells, and fusion come together to create "Cyfuse") and the technology coming from the biology and engineering fields. Cyfuse Biomedical takes advantage of 3D printing in its tissue studies by 3D printing tissues to be used in all kinds of medical uses from testing to regenerative medicine.
Aspect Biosystems' goals are to create a medical world where animal testing is unnecessary, doctors can know how a patient will react to a drug before the drug is even administered, and transplant organs are 3D printed instead of harvested. Aspect Biosystems has created software that allows users to custom design living structures that are then 3D printed. The Lab-on-a-Printer™ technology allows doctors and researchers to choose a specific cartridge for 3D biofabrication with an RX bioprinter, to create items like the 3DBioring™ Contractile Tissue Platform. This platform can recreate rapid concentration and relaxation of human muscle tissue. Aspect Biosystems is using 3D printing to launch the medical field into the future.
TeVido takes advantage of 3D printers for various reconstructive and cosmetic surgeries. Their treatments range from autologous cell therapy for vitiligo patients to nipple reconstruction for breast cancer survivors. They try to use their patients own melanocytes (pigment-producing cells) and tissues in the printing process to lower the chance of rejection and allow patients to have a high quality of life.
5) DigiLab Inc.
Digilab started 40 years ago with a focus on Fourier transform infrared spectroscopy. When it was bought by Bio-Rad Laboratories in the 1970s, it started to branch out into other industries and technologies. Today, Digilab has created the CellJet 3D printer for living cells. The cells printed with the CellJet have 95 percent viability. The 3D-printed cells can be used for research of stem cells, cancer biology, automated cell arrays, cell-cell interaction studies, cell-drug interaction studies, tissue engineering, regenerative medicine and more.
6) Advanced Solutions Life Sciences
Advanced Solutions Life Sciences has 3D-printing capabilities for tissues, called the BioAssemblyBot®. The BioAssemblyBot has the ability to print cell systems, 3D assays, experimental tissue models, microenvironments, organ models, microfluidic platforms, implant systems and more.
7) Tissue Regeneration Systems (TRS)
TRS is a medical device company focusing on skeletal reconstruction and bone regeneration technology by utilizing 3D bioprinting. TRS uses scaffold technology and 3D printers to create skeletal reconstruction implants. These implants are bioresorbable, so over time, they will fully replace themselves with real bone. The porousness of the implants is engineered to support weight and function so it can be used in many different areas of the body.
8) nScrypt
nScrypt manufactures micro-dispensing 3D printers and 3D bioprinters. Its 3D bioprinters create bioscaffolds in any shape. Its bioprinter, the SmartPump™, prints living cells at near 100 percent cell viability. The printer can print extracellular matrices, collagen, hyaluronic acid and more. It deposits a wide range of biopolymers. nScrypt advertises its 3D bioprinter as a true 3D bioprinter.
9) EnvisionTEC
EnvisionTEC creates a wide variety of 3D printers for a range of uses, including bioprinting. It sells its 3D printers worldwide as well as developing the technology, materials and services. In 2002, EnvisionTEC started selling its bioprinter and launched the first 3D-Bioplotter materials in 2017. The 3D-Bioplotter is an open-source materials printer so researchers can develop their own materials and research as they need it. The 3D-Bioplotter can print tissue engineering, soft implant structures and more.
10) N3D Biosciences
N3D Biosciences has developed magnetic cell culture using its device the NanoShuttle™-PL and a 3D printer to rapidly print the cells into microtissues with magnetic forces. This method works with any cell type, which is great for biomedical research. This spheroid bioprinting technology uses 3D bioprinting technology, core technology and the NanoShuttle to create a plate of spheroids in 15 minutes to a few hours for medical research.
3D bioprinting technology is taking over the medical field. 3D bioprinters are being utilized in medical research, implants and more. Watch out for more companies utilizing this technology in the very near future. This is just the beginning of a whole new world of medical research!