The internet of things (IoT) is gradually being integrated into homes and businesses. Over the next six years, the IoT device market is expected to grow at a compound annual growth rate of 23 percent. Cloud storage and processing of IoT data has increased the flexibility and convenience of IoT devices. Artificial intelligence in the cloud is able to make sense of the mountains of data and generate appropriate actions.
The security segment of the IoT market alone is expected to grow to $30.9 billion by 2025. The subset within that market related to IoT sensors is projected to hit $10 billion driven by homeowner adoption. Motion sensors, light sensors and video cameras have long been drivers of IoT's adoption in the home. Light sensors are used to automatically turn on devices when it is dark out. Motion sensors have been used to track movement and turn lighting and heating zones on and off as needed.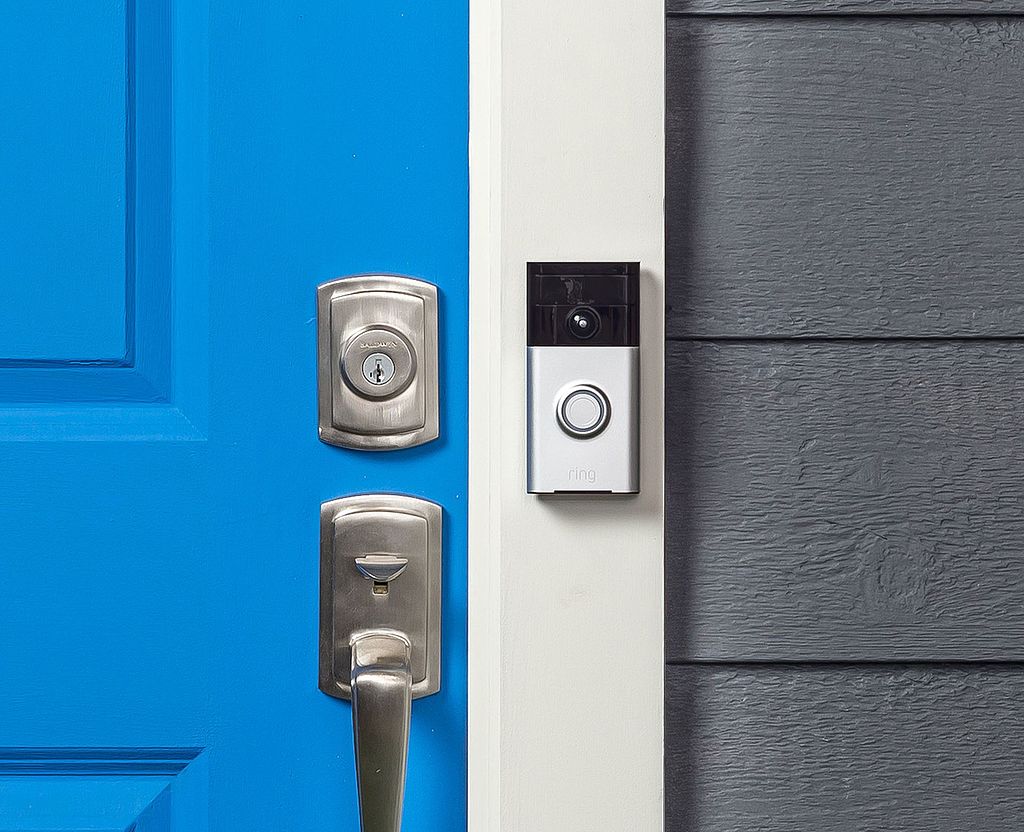 Smart locks can use facial recognition to unlock doors. Souce: Ring / CC BY-SA 4.0The addition of cloud processing and storage coupled with IoT sensors have greatly expanded their utility. Companies such as Nest are offering subscription plans for their cameras such as Nest Aware. Nest Aware offers cloud-based services such as storing video from the cameras for 30 days or generating alerts when the camera spots a person or motion. Video cameras in doors send alerts to homeowner's mobile devices when someone is trying to deliver a package or gain entry. Homeowners can then use their smartphones to see who is at door, talk to them and open the door remotely if necessary.
Facial recognition enabled smart doors will unlock themselves automatically for approved family and friends. The camera recognizes that a person has appeared in view of the camera and uploads a picture of their face to the cloud to be evaluated by facial recognition software. Once the face has been parameterized, a database is checked and if the person has permission to enter the house, the lock is unlocked. The homeowner then, if they requested it, gets a notification that a particular person has entered the house at a particular time.
The convenience is such that many builders are starting to automatically incorporate these sensors into higher-end properties. Younger buyers are also eager to integrate this technology into older homes. The security risks that were major concerns with older IoT protocols have been, for the most part, addressed. 5G is aggressively accommodating towards IoT devices as well, meaning that as it gets adopted over the next five years IoT sensors and devices will be even more easily integrated into local networks and the cloud.
Larger traditional technology companies have recognized the growth in the IoT sensor market and are trying to gain market share. Amazon is seeking permission to have access to homes and vehicles via the IoT. Amazon manufactures its own smart lock that would grant delivery drivers permission to enter the home to drop off packages inside. Intel and Foxconn have demonstrated use cases for AI facial recognition using 5G of residential access control as well as pay-via-face for movie and TV content purchases.
In addition to face scanning technology, iris scanners and fingerprint readers are also being integrated into IoT systems for secure entry or purchasing. In addition to security, sensors for safety such as fire alarms, carbon monoxide sensors, etc. are also enhanced by improved processing and cloud storage. With a stored baseline of the normal levels of gas or smoke in the house, these IoT sensors can fine tune their alarm thresholds to reduce false positives, such as burnt dinner.
The IoT sensor market continues to grow aggressively thanks to the integration of cloud processing and storage. The impending adoption of 5G over the next decade should only further facilitate these devices into homes. Artificial intelligence opens many new possible applications for these sensors such as facial recognition door locks or aggressive environmental controls to save heating/cooling and lighting costs. With the high-end market already making these features standards, and the next generation of buyers integrating them into older homes, it should not be long before IoT sensors are a common feature of most homes.