New technology coming out of MIT's Computer Science and Artificial Intelligence Lab could possibly tell us how someone really feels.
The device measures heartbeats and breath to determine if you are excited, happy, angry or sad—instead of relying on sometimes faulty facial expression technology.
The "EQ-Radio" device measures subtle changes in breathing and heart rhythms to detect a person's emotions via wireless signals.
Other existing emotion-detection methods typically employ facial cues or on-body sensors—both of which come with a series of pitfalls. Cues like facial expressions can be unreliable (think about your poker face), while on-body sensors are a hassle to wear and can be inaccurate if they move around.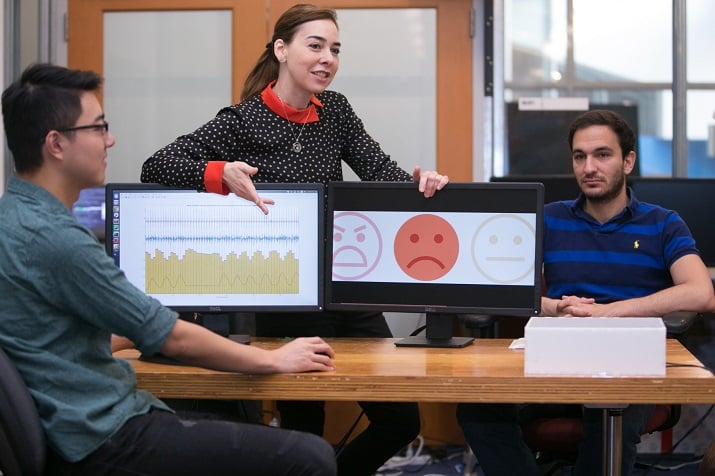 Professor Dina Katabi (middle) explains how Ph.D. Fadel Adib's face (right) is neutral, but that EQ-Radio's analysis of his heartbeat and breathing show that he is sad. (Image Credit: Jason Dorfman/MIT CSAIL)
According to MIT, the new device is 87% accurate at detecting if a person is excited, happy, angry or sad, and does not require the help of any on-body sensors or facial-recognition software to do so.
"Our work shows that wireless signals can capture information about human behavior that is not always visible to the naked eye," said Dina Katabi, MIT professor and project lead. "We believe that our results could pave the way for future technologies that could help monitor and diagnose conditions like depression and anxiety."
According to Katabi, the system could have future applications in entertainment, consumer behavior and healthcare. For example, film studios and ad agencies could test viewers' reactions in real-time, or smart homes could make adjustments to your heat, based on information acquired about your emotions.
The device works by reflecting wireless signals off of a person's body to measure heartbeats as accurately as an ECG monitor, with a margin of error of approximately 0.3%. Then it analyzes the waveforms within each heartbeat to match a person's behavior to how he or she previously acted in one of the four emotion-states.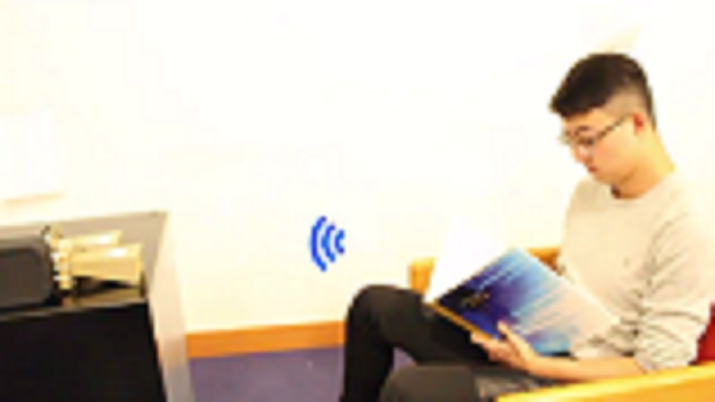 EQ-Radio: Emotion Recognition Using Wireless Signals
In the course of development, Katabi, along with Ph.D. students Mingmin Zhao and Fadel Adib, faced the challenge of weeding out irrelevant data. In order to isolate the heart-rate, for example, the team had to dampen the breathing, because the distance that a person's chest moves from breathing is much greater than the distance that the person's heart moves to beat, the team says.
In order to isolate what is relevant, the team used wireless signals that are based on acceleration rather than distance traveled, because the rise and fall of the chest with each breath tends to be much more consistent and has a lower acceleration than the motion of a heartbeat.
According to the researchers, the algorithm's ability to capture the heartbeat's entire waveform means that in the future it could be used for non-invasive health monitoring and diagnostic settings.
"By recovering measurements of the heart valves actually opening and closing at a millisecond time-scale, this system can literally detect if someone's heart skips a beat," said Adib. "This opens up the possibility of learning more about conditions like arrhythmia, and potentially exploring other medical applications that we haven't even thought of yet."