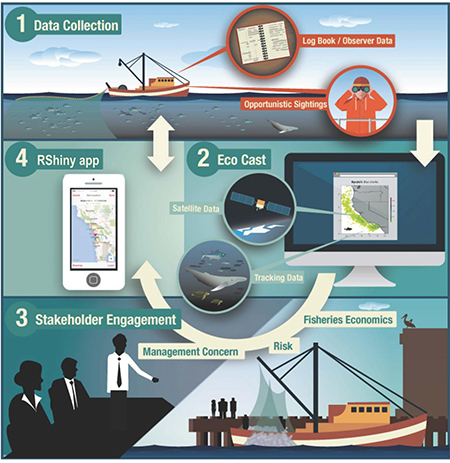 Schematic of the EcoCast process. Source: Drew Briscoe.A new experimental software tool is designed to decrease the number of denizens of the deep that get discarded in the process of fishing. Worldwide, fishing fleets discard as many as two of every five sea creatures that they catch – a whopping 40 percent.
The tool, called EcoCast, can help fishers to locate the most productive fishing spots, and also to avoid protected species such as sea turtles and dolphins. It was developed by researchers at Stanford and other universities; research findings reported in Science Advances show that the approach can be up to 10 times more efficient for protecting species than previous management styles.
Currently, fisheries managers protect species by creating static areas that fishers must avoid. The problem with this approach is that these protected areas don't reflect the dynamic nature of life in the ocean. Sea creatures regularly migrate out of the no-fishing zones — and into fishers' nets.
EcoCast, by contrast, combines satellite data of ocean conditions, fishery observation records and species tracking data in order to pinpoint ideal fishing locations on a daily basis. This information is put directly in the hands of fishers and managers. As the fishing season progresses and risks change, resource managers can adjust the weighting of each species accordingly.
The tool can also be used to inform scientists and researchers working with big data to advance more sustainable fisheries practices. And by identifying risk zones, EcoCast has implications for the management of shipping lanes.
"By pioneering a way of evaluating both conservation objectives and economic profitability for sustainable U.S. fisheries," said study lead author Elliott Hazen, "we're simultaneously advancing both conservation and economic objectives." Hazen is a visiting scholar at the Stanford Woods Institute for the Environment.
The study builds on previous efforts to integrate the dynamic nature of oceans, ocean resources and ocean users into a marine management approach.
"We've had to settle for static management in the past," said study coauthor Larry Crowder, professor of marine ecology and conservation at Stanford's Hopkins Marine Station. "Now, we can consider this novel approach to address one of the most significant barriers to global fisheries sustainability."