Heilind Electronics, a global distributor of electronic components and authorized distributor for JAE Electronics,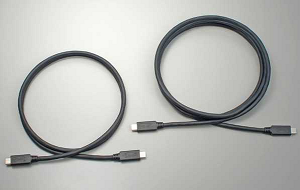 Source: Heilind Electronicshas expanded its extensive inventory of interconnect products with the manufacturer's DX07 Series USB Type-C cable assemblies.
The cable assemblies are USB-certified, with assigned TID numbers for USB 3.1 performance. One end supports USB Type-C and the other end supports either a USB Type-C or Type-A connection. In addition, the assemblies accommodate up to 10 Gbps SuperSpeed Plus communication and a maximum 5 A power supply for faster charging.
A key feature of the DX07 Series is its reversible plug design; the symmetrical interface allows the plug to be inserted in either direction. The assemblies also feature superior EMI/EMC shielding, as well as friction locking to ensure a secure connection.
Because of their compact size and expansive capabilities, DX07 Series cable assemblies are used in a wide variety of applications including mobile phones, computers, office appliances, audiovisual equipment and factory automation equipment. Visit Heilind's website for more information about JAE's DX07 Series USB Type-C cable assemblies.