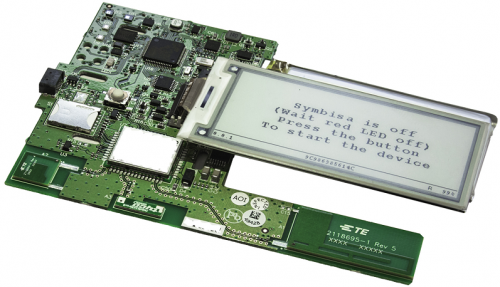 The Symbisa module. Source: Newark element14Newark element14, a division of Avnet Inc., has signed a sales and marketing deal for Symbisa, an Internet of Things (IoT) module that integrates Microsoft Excel.
Built by Hanhaa, Symbisa is an all-in-one, always-connected device that carries sensor capable of detecting and collecting environmental information such as GPS location, orientation, temperature, light and humidity. Typical applications for the module include the monitoring of temperature and humidity in greenhouses or storage areas or for tracking of equipment on hire such as if an accident as happened or dropped in transit.
Using an Excel add-in, users can bring real-world data streams directly into any desktop or mobile device that runs Excel for Office 365. Each sensor is pre-configured for events that flow directly into Excel worksheet cells. Users can also push data from Excel up to a unit's e-ink display. The result is that the module can be used by anyone with basic spreadsheet knowledge, Newark element14 said.
Users can send messages or barcodes directly from Excel to be displays on the e-ink display on the module, ready for a person or machine to read and action in the field.
Features of the module include:
Shock detection up to +16g
Ambient light detection wavelength to 560nm
Ambient light detection threshold of 0.01 lux to 83k lux
Pressure sensing range from 160 to 1260 hPa
Humidity range of 5 to 90 percent non-condensing
Temperature operating range of negative 15 degrees Celsius to 50 degrees Celsisu
Location accuracy of standard GNSS resolution down to 3 meters