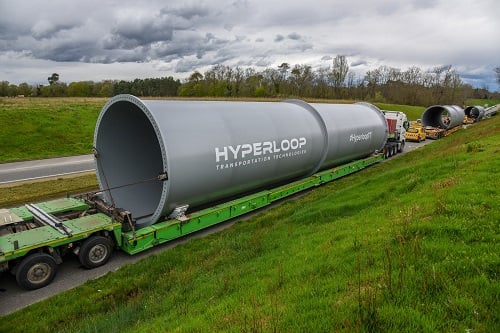 The first tubes come to France for HyperloopTT to build its first prototype system. Source: HyperloopTT
Hyperloop Transportation Technologies (HyperloopTT) has begun construction on its first hyperloop transportation system in Toulouse, France.
The company received the first set of tubes that will be used in the interior that has a diameter of 4.0 meters and is capable of transporting both passenger capsules as well as shipping containers. The first phase of the hyperloop system — that will stretch about 320 meters — will be operational this year, the company says. An additional second full-scale system of 1 kilometer elevated by pylons at a height of 5.8 meters will be completed in 2019.
HyperloopTT says both systems will be fully upgradeable and will be utilized for transportation by the company and its partners. The full-scale passenger capsule — currently near completion at Carbures in Spain — is scheduled for delivery to the Toulouse facility this summer for assembly and integration.
"Five years ago we set out to solve transportation's most pressing problems; efficiency, comfort and speed. Today we take an important step forward to begin to achieve that goal," says Dirk Ahlborn, CEO of HyperloopTT. "Hyperloop is more than just displays of rapid acceleration and more than just breaking speed records. The real opportunity is to create an efficient and safe system with an unparalleled passenger experience."
The company says it will have a public unveiling of the facility later this year as well as a prototype track developed.
HyperloopTT is one of several companies developing what is being billed as the fifth mode of transportation, which, up until a few years ago, was considered a futuristic, far-off technology. Other companies developing the technology include SpaceX and Virgin Hyperloop One, which recently showed off its working prototype.
HyperloopTT was recently chosen as part of a study to determine if a hyperloop would be applicable for a new corridor in the Ohio and Illinois region. SpaceX, for its part, submitted its tunnel plan for an under Los Angeles corridor that will be voted on by the local governments.