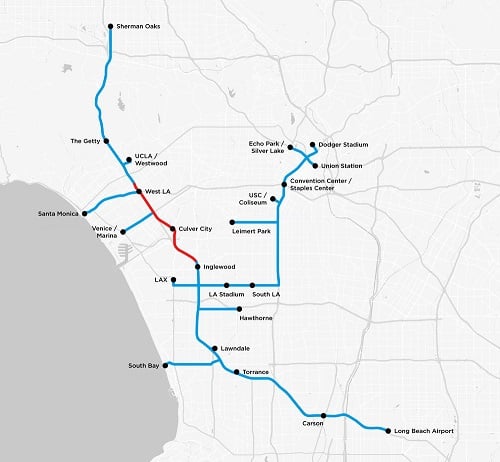 The proposed tunnel digging locations. Source: The Boring CompanyThe Boring Company proposed its concept for a string of tunnels that would be built underneath Los Angeles and Culver City as part of a transportation plan for a hyperloop system.
During a recent meeting with the Culver City city council, The Boring Company presented the plan to construct a 6.5 mile proof-of-concept tunnel through Los Angeles and Culver City that included construction logistics, verification, system testing, safety testing, operating procedure verification and line-switching demonstrations.
Phase 1 of the plan (shown in red on the image provided by The Boring Company) would not be utilized for public transportation until the proof-of-concept tunnel is deemed successful by the county government, city government and The Boring Company.
Phase 2 (shown in blue in the image) indicates potential expansion options, but is not a finalized alignment, the company says. Phase 2 would need to be developed in cooperation with Los Angeles County, the city of Los Angeles, city governments in the greater LA area and the general public.
During the meeting, The Boring Company said it would not ask for any taxpayer funding for the development of the tunnels that will be built. The company is also seeking feedback from residents in the greater Los Angeles area on station locations and system improvements for Phase 2 and beyond.