Heilind Electronics, a global distributor of electronic components and Molex's largest authorized distributor in the Americas, has expanded its selection of interconnect solutions with the company's ValuSeal wire-to-wire connector system. ValuSeal connectors are designed to provide cost-effective, reliable and sealed performance —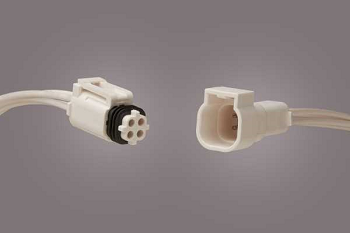 The Molex ValuSeal Wire-to-Wire Connector System features an innovative one-piece housing design that simplifies the assembly process and protects against harsh and wet environments. Source: Heilind Electronics all within a one-piece housing design. The compact pitch also enhances design flexibility in applications where space is severely limited.
ValuSeal wire-to-wire connectors include an integrated wire strain relief within the connector body to prevent overbending, wire failure and leak paths. Additionally, the connector's one-piece housing eliminates failures and issues associated with the use of unsealed interconnect systems in adverse conditions. ValuSeal connectors also prevent accidental unmating through a positive latch feature that ensures secure retention when the receptacle and plug are mated.
Not only is the ValuSeal connector capable of delivering 11.5 A of current, but its IP65-rated wire-and-ring seal makes it ideal for a variety of harsh environments suitable for consumer, industrial, non-automotive transportation, robotics and lighting applications.
Visit Heilind's website for more information about the Molex ValuSeal wire-to-wire connector system.