Mouser Electronics is now stocking the ValuSeal wire-to-wire connector system from Molex, LLC. ValuSeal connectors are designed to provide cost effective, reliable and sealed performance with a one-piece housing design. The IP65-rated wire-and-ring seal system is capable of 11 A of power. It is ideal for consumer, industrial, non-automotive transportation, robotics and lighting applications.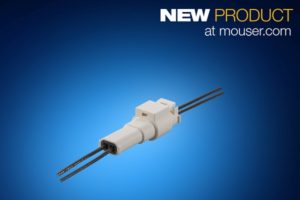 The ValuSeal Wire-to-Wire connector (Mouser)
The Molex ValuSeal wire-to-wire connector system has a one-piece housing design that simplifies the assembly process and protects against harsh and wet environments, dust and low-pressure jets of water. The design boosts efficiency by reducing the number of components needed. A compact 4 mm pitch enhances design flexibility in space limited applications. The connectors have a positive latch feature that ensures secure retentions with the receptacle and plug are mated. This prevents accidental un-mating.
The ValuSeal wire-to-wire connectors include an integrated wire strain-relief within the connector body to prevent over-bending, wire failure and leak-paths. Mouser stocks ValuSeal pre-crimped leads that are suitable for simplifying wire assembly for added cost efficiency.
To learn more about this new product, visit the Mouser site.