The Koala 3D is a "climbing" 3D printer that takes both its inspiration and its name from one of Australia's most adorable marsupials. Developed as a working prototype by researchers at the University of Chile, the device has both a climbing stage and a printing stage that work in conjunction with one another – the machine climbs the object it is printing, as it prints.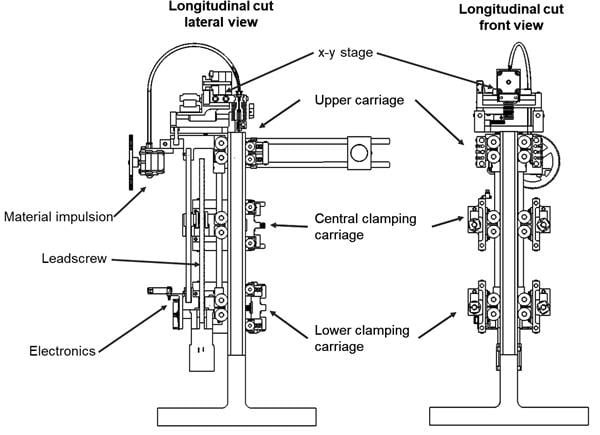 Koala z-infinity climbing 3D printer schematic. Source: 3ders.org.The climbing design allows for an unlimited z-axis, controlled by two motorized clamps and rails. The print head uses a rack-and-pinion mechanism that provides compact x/y positioning atop the climbing column. Objects get printed within the walls of that column, allowing for free-form fabrication of any structure within the interior of the beam. Objects are then extracted when printing is complete.
The machine's creators – chief designer Juan Cristobal Zagal, Maximiliano Velez and Efren Toala (who, amusingly enough, served as principal engineer for a similar device upon which his rhyming surname was bestowed) – have ambitions that climb considerably past just making a cool printer. As shown in the video, the researchers are looking forward to the future building of civilization through the use of "autonomous machines that will be able to work together to build complex structures of almost any size. Like bees collaborating to build a hive, these machines will need to be able to move freely and climb along the structure they build."
As a z-infinity climbing 3D printer, the Koala breaks past the conventional bounds that limit many manufacturing machines to producing structures smaller than themselves and, according to the researchers, achieves an "infinite manufacturing capacity."
At present, however, the machine's design limits its printing capacity to what can fit inside the column. But according to 3D print technology news outlet 3ders.org, the researchers say they will soon be able to significantly widen the column space.