The slow pace of the 3D printing process is one factor that has prevented wider diffusion of the technology. The printing machines must be operated slowly to ensure accurate reproduction of desired details and to prevent vibrations that impact product quality. Slower operation is warranted as the faster the machine moves, the more vibrations are generated.
A software algorithm developed at the University of Michigan promises to pick up the pace of 3D printing. The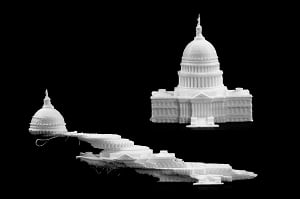 On the bottom, vibrations from the 3D printer caused the print head to offset multiple times. On the top, the new algorithm was applied to the printer, enabling a successful print. Both U.S. Capitol replicas were printed on a HICTOP Prusa i3 3D printer at about twice the speed. Source: Evan Dougherty, Michigan Engineeringsoftware "knows what the behavior of the printer is going to be ahead of time" and reacts pre-emptively. High-quality results are realized at speeds up to two times faster than those in common use, with no added hardware costs.
"Armed with knowledge of the printer's dynamic behavior, the program anticipates when the printer may vibrate excessively and adjusts its motions accordingly," said Chinedum Okwudire, an associate professor of mechanical engineering.
"Eventually, one of the places we would want to see the algorithm applied is in the firmware — the software that runs on the printer itself," he said. "That way, it will be integrated with the printers, regardless of the size."
The software can also be applied to other industrial-grade machines that suffer from similar limitations due to vibrations.