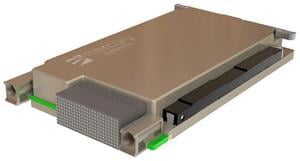 The space-qualified TRRUST-Stor VPX RT series. Source: Mercury SystemsMercury Systems Inc. has introduced what it claims is the first space-qualified, radiation-tolerant secure solid state drives (SSDs).
The TRRUST-Stor VPX RT series are designed to operate in the harshest of operating environments in applications such as commercial satellites, high-altitude aircraft, airborne weapons and mission-critical ground computing systems.
Mercury says conventional storage devices for space applications have architectures that limit data transfers to less than 1 GB per second. These architectures also fail to include error correction algorithms to counter the effects of ionizing radiation damage to the flash memory storage elements.
The space-grade SSDs use Mercury's BuiltSecure error correct algorithms paired with large geometry industrial-grade single-level cell (SLC) NAND flash memory. The new SSDs are designed for fault tolerance up to six failed NAND devices and offer long-term data integrity for applications where device repair or replacement is cost-prohibitive. The devices can also be tailored for power consumption against performance requirements for each different application.