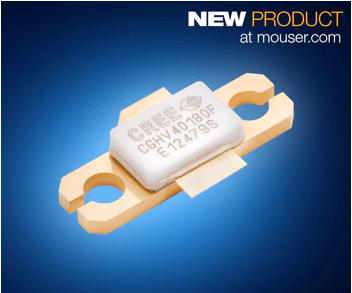 Source: Mouser Electronics
Mouser Electronics Inc. is now stocking the CG2H40xx and CG2H30070 gallium-nitride (GaN) high-electron-mobility transistors (HEMTs) from Wolfspeed™, a Cree® company. Operating from a 28-volt rail, the two HEMTs offer a general-purpose broadband solution for a variety of radio frequency (RF) and microwave applications.
The Wolfspeed CG2H40xx and CG2H30070 GaN HEMTs offer a choice of two package types: a screw-down flange package or solder-down pill package. The new HEMTs can be used as drop-in replacements in existing applications. The transistors are capable of high-frequency operation to 6 GHz and deliver 62-percent efficiency at PSAT.
The wide bandwidth of Wolfspeed's CG2H40xx and CG2H30070 GaN HEMTs allows RF design engineers to increase the performance of RF amplifiers. The transistors are an ideal option for RF power amplifier applications, ranging from military communications and radar equipment to commercial RF applications in industrial, medical and scientific industries.
The CG2H40xx and CG2H30070 GaN HEMTs from Wolfspeed are supported by the CG2H4004F-TB and the CG2H30070F-TB1 demonstration boards allow engineers to efficiently evaluate the Wolfspeed HEMTs. The CG2H4004F-TB operates at a frequency range of DC to 4 GHz, while the CG2H30070F-TB1 operates at a frequency range of 0.5 GHz to 3 GHz.
Click here to learn more.