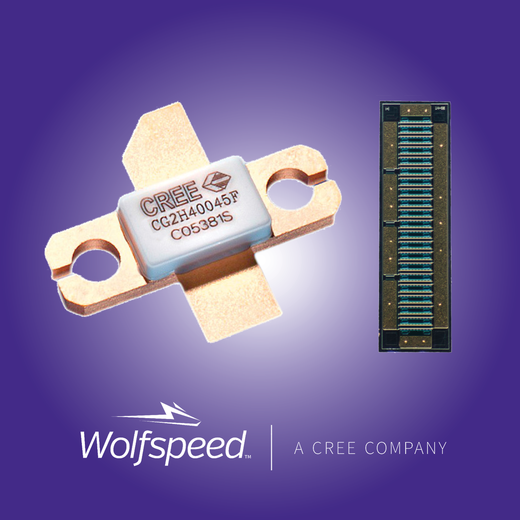 Source: Wolfspeed
Wolfspeed, a Cree Company, has introduced a new series of 28 V GaN HEMT RF power device. These devices are capable of higher frequency operation to 8 GHz with increased efficiency and higher gain. RF design engineers are able to build more efficient broadband power amplifiers for commercial and military wireless communications and radar applications.
The 28 V GaN HEMT devices are developed using Wolfspeed's proven 0.25μm GaN-on-SiC process and they are designed with the same package footprint as the previous generation of 0.4μm devices. This makes it possible for RF design engineers to use them as drop-in replacements for the earlier devices in existing designs. Available as packaged devices (CG2H400 Series) and bare die (CG2H800 Series), the new GaN HEMTs deliver 33 percent higher frequency operation to 8 GHz (from 6 GHz), an additional 1.5-2.0 dB of gain, as well as 5-10 percent boost in operating efficiency compared to Wolfspeed's earlier generation devices.
The higher efficiency and higher bandwidth capability make these devices ideal for extensive range of RF power amplifier applications, using those for military communications systems, radar equipment, electronic warfare and electronics counter-measure systems, as well as commercial RF applications in the industrial, medical and scientific band.
Compared to conventional silicon (Si) and gallium arsenide (GaAs) devices, Wolfspeed's GaN-on-SiC RF devices deliver higher breakdown voltage, temperature operation, efficiency, thermal conductivity, power density and wider bandwidths. These are all critical for achieving smaller, lighter and more efficient microwave and RF products. Wolfspeed™ GaN-on-SiC RF devices enable next-generation broadband, public safety and ISM amplifiers, broadcast, satellite and tactical communications amplifiers, UAV data links, cellular infrastructure, test instrumentation and two-way private radios.
To learn more about these new devices, visit Wolfspeed.