Driveline engineering consultancy, Drive System Design (DSD), has partnered with software specialists Altair and FluiDyna to develop and enhance a novel computer modeling technique, nanoFluidX, that significantly improves the analysis of lubrication flow. The approach utilizes Smoothed Particle Hydrodynamics (SPH) methodology and increases the accuracy of analysis while reducing simulation time from weeks to just a few days relative to traditional methods.
DSD is using nanoFluidX to improve electric vehicle range by reducing losses in the drivetrain, identified as the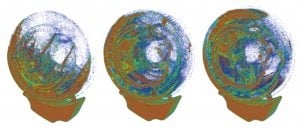 SPH model in nanoFluidX showing lubrication flow in a passive pump EV transmission. Source: Drive System Designlargest energy draw on the battery pack at steady speeds up to approximately 80 km/h (50 mph); even bigger than the vehicle's aerodynamic drag. Improving efficiency at these lower speeds is essential to achieve worthwhile improvements in 'real-world' driving range.
The new software is designed to solve drag and fluid visualization challenges in transmission applications. In a recent project, DSD used nanoFluidX to optimize an EV planetary transmission design. Drag losses were reduced by almost 30 percent while maintaining satisfactory lubrication of all the transmission elements.
Better visualization also allowed DSD to improve thermal management by increasing the oil volume without incurring high churning and windage losses. Instead, a segregated oil cavity was created within the transmission case, from which oil is directed by baffles to strategic areas, such as the planet bearings and pins, which are often very difficult to lubricate reliably.