Efinix™, an innovator in programmable product platforms and technology, has announced the release of its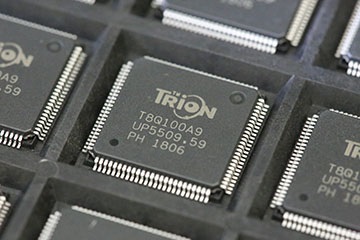 Source: EfinixTrion™ programmable platform. The Trion platform was built using Efinix's Quantum™ programmable technology, comprising logic, routing, embedded memory and DSP blocks. The first eight FPGAs in the Trion platform are built on SMIC's (Semiconductor Manufacturing International Corporation) 40 nm process. The products range from 4K to 150K logic elements (LEs) and support standard interfaces such as GPIO, PLLs, oscillators, MIPI, DDR and LVDS among others. The Trion platform is fully supported by Efinix's Efinity™ Integrated Design Environment (IDE).
Trion FPGAs deliver a substantial power-performance-area advantage — 4X — over other FPGAs due to the disruptive advantage of the Quantum programmable technology. Trion products will be competitive in general-purpose FPGA markets such as mobile, IoT, general consumer, industrial and medical. These FPGAs are also expected to shine in a number of fast-growing markets, such as edge computing, which combines compute acceleration, analytics, deep learning inference and custom logic via edge devices. For detailed information about the Trion platform, visit www.efinixinc.com/trion.